Showcase for manufacturing
25 January 2013
As 2011 begins to draw towards its close, thoughts inevitably turn to the New Year and what it will bring for the British economy and the recovery of the country's manufacturing sector. A key event for 2012 is MACH, as Gr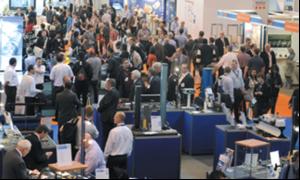 As 2011 begins to draw towards its close, thoughts inevitably turn to the New Year and what it will bring for the British economy and the recovery of the country's manufacturing sector. A key event for 2012 is MACH, as Graham Dewhurst, director general, of the Manufacturing Technologies Association explains

One way to keep abreast of developments is through MACH 2012, an exhibition that unites the industry under the NEC roof from16th to 20th April.

MACH has been known as a place to see Machine Tools for the past 100 years and 2012 promises to be no exception with the big players taking bigger stands and promising to put some real metalworking behemoths - many new to the UK and indeed world markets - on them. The show's traditional role as a showcase for the tooling industry is back with a vengeance too with all the big companies represented on showpiece stands.

But it is perhaps some of the innovations that make MACH 2012 a landmark event which is looking well into the future of British manufacturing. Areas of technology that are new not only to MACH but even to manufacturing will be represented. On display will be the latest kit in welding, robotics and additive manufacturing and 3D printing. The need to keep up with what is new has never been greater. You need to know what the future holds for you and your company just to keep in the game And it is not just the technologies that are new. For the first time MACH will have a distinctly sector-specific feel with key areas such as aerospace, automotive and power generation presented in such a way as to help visitors find easily the products they are looking for.

There are innovations too in terms of the size of company that will be showing. Of course in the past the danger has always been that a small company's stand, of maybe 9m2, might get lost in an exhibition with stands nearly 100 times bigger. So, to guard against that happening, companies can boost their impact by joining a zone based either around their sector or their Trade Association; BTMA, MMMA, CBM, AWD, BAF, GTMA are on board and more are in the pipeline.

Confidence high I've just returned from EMO the Manufacturing Technology industries big European show in Germany. The confidence there with visitor numbers well into six figures, and hundreds of millions of Euro's worth of business being done gives me great hope for the immediate future of the industry.Manufacturing's needs are greater and more complex than ever before and I was heartened by the sorts of projects I learned about from the 'Best of British' that I met while I was over there. The manufacturing world is turning on its axis; geographically as Asia rises and technologically as new products come on stream.Manufacturing's potential is huge and we need to make sure that we here in the UK are part of it.
OTHER ARTICLES IN THIS SECTION