Wrapping role for screw compressor
25 January 2013
Haighs Bakery in Leeds has been providing local bakeries, corner shops, schools, restaurants and catering companies with a plethora of baked goods such as bread, cakes and savouries for more than 60 years and operates 2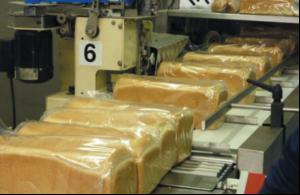 Haighs Bakery in Leeds has been providing local bakeries, corner shops, schools, restaurants and catering companies with a plethora of baked goods such as bread, cakes and savouries for more than 60 years and operates 24h/day, 6 days a week.

Compressed air is used to power wrapping machines at the bakery.

Production has increased over the last few year's and Adam Haigh, director, was aware that an ageing compressor was no longer able to meet demand. Boge Compressors reviewed the system and recommended its C 7 LDR.

The C LDR is used by many small compressed air users that require a compact compressed air station. A CL series screw compressor and a refrigerant dryer are mounted on a horizontal compressed air receiver, requiring only a minimum footprint.

Low sound pressure values also make this suitable for point-of-use tasks.

Integration of all essential components in the compact Boge air-end module virtually eliminates external pipe-work thereby reducing internal flow losses for an efficient and dependable compressor station solution.

Haigh said "We did get several quotes for this project, but Boge came back with the best package. A real selling point was the option to rent. Boge maintains the equipment; the compressor just produces the air that we need and we don't have to worry about anything else. In fact we do not touch the compressor at all. It's on 24h and is computer controlled so that if there was a fault (not that we have had one) it would switch itself off and Boge would send out an engineer to repair the fault."
OTHER ARTICLES IN THIS SECTION