Sauce role for infrared oven
25 January 2013
A custom-designed, carbon infra-red oven from Heraeus Noblelight is helping Premier Foods achieve efficiency gains of more than 10% over a former hot rinse system on the cooking sauce production line at its Bury St Ed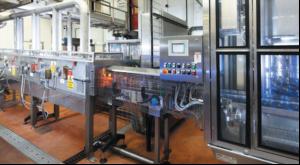 A custom-designed, carbon infra-red oven from Heraeus Noblelight is helping Premier Foods achieve efficiency gains of more than 10% over a former hot rinse system on the cooking sauce production line at its Bury St Edmunds plant.

After cooking, sauce is pasteurised in-line and delivered to the jar filler at 94°C. The new set-up saves space and time by eliminating the need for a flat bed pasteuriser post bottling.

Premier approached conveyor system manufacturer, SFT-UK, who recommended a Heraeus infrared oven for glass jar heating. Tests proved the capability of medium wave infrared in heating glass jars effectively. A 124kW infrared oven was installed on the production line. SFT-UK modified the line, removing the hot water jar rinser and installing a Paxona SFT sidegrip jar inverter/ filtered air cleaner.

The oven was installed immediately after the air cleaner. Stainless steel, it is in two sections, one with four 24kW zones and one with two 13.8kW zones. An optical pyrometer measures the temperature of the jars as they leave the oven; the temperature is shown on the front control panel.Manual or automatic control can be selected. All infrared emitters have failure detection so that the line is shut down in the unlikely event of emitter failure. If the line needs to be stopped for any reason, the carbon emitters switch off virtually instantaneously.

The new oven has proved a success, not only with production management in terms of less downtime and a 10% increase in line speed, but with the workforce too.
OTHER ARTICLES IN THIS SECTION