Robot swap aids production
25 January 2013
As part of a major investment by Norgren at its Lichfield manufacturing site, Kawasaki Robotics has replaced two ageing robots with two Kawasaki RS06L robots. The new additions allow faster cell tool change times and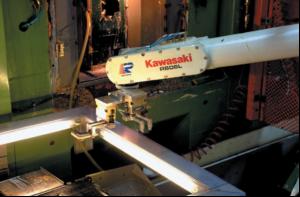 As part of a major investment by Norgren at its Lichfield manufacturing site, Kawasaki Robotics has replaced two ageing robots with two Kawasaki RS06L robots. The new additions allow faster cell tool change times and are able to work more comfortably within target cycle times.

Installed over 13 years ago the original Kawasaki robots, operate between 5 to 7 days a week and three shifts a day in Norgren's automotive/truck air-brake fittings section.

The new Kawasaki RS robots load and unload brass fittings to two rotary transfer machines which have been moved to new bays in the plant. Cells are programmed to produce up to 100 variants of fitting in batches.

Brass stampings enter the cell, randomly positioned, on a conveyor belt. A vision camera over the conveyor belt pick up point, illuminated by a structured light source, provides the robot with co-ordinates to pick the component correctly. The robot has a double gripper and moves to the transfer machine load point, removes a finished machined fitting and loads the un-machined fitting. The machine cycle takes 6sec.

Mark Clark, manufacturing engineer at Norgren, says: "The new robots are quicker; they work well within the machine cycle time and present the part to the machine before its cycle is finished." The old robots had shorter reach so had to be moved, on a slide fixture, away from the transfer machine to facilitate tool setup, which slowed tool changes. This isn't necessary now as the new Kawasaki RS06L has a longer reach.
OTHER ARTICLES IN THIS SECTION