Energy control
25 January 2013
To control the energy used by the warehouse truck fleet at its newest distribution centre at Magna Park, Milton Keynes, retailer John Lewis Partnership has implemented a combination of PowerNet battery and power managem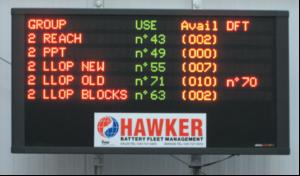 To control the energy used by the warehouse truck fleet at its newest distribution centre at Magna Park, Milton Keynes, retailer John Lewis Partnership has implemented a combination of PowerNet battery and power management systems from EnerSys Motive Power.

The installation automatically manages battery allocation to ensure balanced utilisation, minimises energy consumption and prevents battery systems from drawing too much power when overall demand in the warehouse is above predetermined limits. This ensures other services are not disrupted and avoids the need for costly additional electrical infrastructure to keep the installation within budget.

As the system runs on a standard PC and is completely configurable in software, it can be set up with a wide range of user-defined parameters to provide a unique set of performance characteristics.
OTHER ARTICLES IN THIS SECTION