Home
>
Acknowledging success
Acknowledging success
25 January 2013
It was winners all round at the MTA's Annual Gala Dinner held on 1st February at the ICC in Birmingham. As well as the President's speech, the MTA presented its Manufacturing Industry Awards, an opportunity to celebrat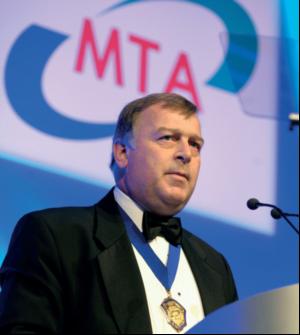 It was winners all round at the MTA's Annual Gala Dinner held on 1st February at the ICC in Birmingham. As well as the President's speech, the MTA presented its Manufacturing Industry Awards, an opportunity to celebrate success and congratulate outstanding individuals and companies.

MTA President Simon Pollard used the speech to drive home the message that UK manufacturing is great and growing. He is looking forward to MACH 2012 and said he believed UK Manufacturing was well placed to take off with advantages in technology, science and research skills, as well as progress in sight on issues like export finance and the Government's attitude to the sector.

He highlighted the commitment of Lloyds TSB Commercial not least in their support of the Awards night.

Simon Pollard stressed that it was vitally important for Government to invest strategically in the country's manufacturing base. He said: "We have to be prepared to stand up for what we make here in the UK and to believe that some industries are strategically and economically essential - and that doesn't just mean submarines in Barrow, it means trains in Derby too." Prize for Best Training Scheme was won by the National Physical Laboratory's training programme in metrology. Best Supplier Partnership went to Delcam and Coventry Engineering for the latter's uses of the former's FeatureCAM to enable more complex parts to be machined.

Most dynamic subcontractor went to BTEK Precision for its work on BAPS Structures for the European Space Agency's Sentinel 2 satellite.

The Young Engineer of the Year was named as Adam Kelsey of Joseph Rhodes. He received an AMTRI Scholarship.
RELATED ARTICLES
No related articles listed
OTHER ARTICLES IN THIS SECTION