Home
>
MACH 2012: More than 21,600 visitors
MACH 2012: More than 21,600 visitors
25 January 2013
MACH 2012 took place from 16th to 20th April at the NEC and proved a highly successful showcase for the UK's engineering-based manufacturing sector, as Paul O'Donnell, head of external affairs at the Manufacturing Technol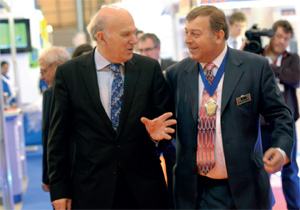 MACH 2012 took place from 16th to 20th April at the NEC and proved a highly successful showcase for the UK's engineering-based manufacturing sector, as Paul O'Donnell, head of external affairs at the Manufacturing Technologies Association, (MTA) explains

Exhibitors reported strong sales and visitors could hardly fail to be impressed with the range of technology on show. Over 21,600 visitors, a 15% increase on 2010, came through the doors over the five days of the exhibition.

They were able to see the wares of nearly 500 exhibiting companies from 40 countries.

There were tools, applications and precision technologies catering to a range of sectors from aerospace to automotive, medical to energy, oil and gas to rail. It featured the very best from our rich, diverse and dynamic sector and the halls of the NEC reverberated with the sound of more than 5000 tonnes of working machinery.

Sponsored this year by Lloyds TSB Commercial, the event was opened by Steve Backley OBE, former javelin world record holder, Olympic Medallist, and London 2012 Olympic Torchbearer, who toured the exhibition and gave visitors the chance to see the Olympic torch before the relay round Britain began. He was joined in the ribbon cutting ceremony by Simon Pollard, president of the MTA and Stephen Pegge, director of SME Markets at Lloyds TSB Commercial. It marked the start of what would become a hugely successful exhibition for a variety of companies exhibiting from across British manufacturing.

As well as being a useful place to discover the latest technologies, MACH, played host to a lively and informative seminar programme which included Richard Noble, Lloyds chief economist Trevor Williams, and a suite of presentations from Rolls Royce on 'manufacturing for mission critical applications'.

Business secretary Vince Cable (pictured with Simon Pollard, president of the MTA), who visited the show said: "I'm delighted to have been invited to MACH 2012 and very pleased to have been able to meet so many of the outstanding engineers and companies that are here. Whether exhibiting the latest technology or looking to apply it to dynamic businesses the people here demonstrate the UK's extraordinary capacity to create, engineer and manufacture world class products. These technologies feed into the value chains of so many businesses both here and in the UK and are vital to creating a thriving, balanced UK economy." Dr Cable was particularly impressed with the Education and Training Zone, which has become an integral feature of MACH over the last few years. Designed to promote engineering-based manufacturing as a career to bright, young engineers it was visited by some 2500 young people, many led on tours around the exhibition by apprentices from member companies.

As part of their tours students visited the Bloodhound Supersonic car and the Advanced Manufacturing Research Centre's 3D virtual reality centre known as the MANTRA truck. This is a customised 14m HGV trailer, designed to give aspiring young engineers a hands-on experience with real cutting edge technologies such as: a fully operational mill-turn machine; video screens with customised MACH content; and a 3D virtual reality centre where students can dismantle a virtual jet engine.

Both students and teachers commented on the success of the venture and completed a questionnaire to discover the usefulness of the day, the tours and their image of engineering and manufacturing as a result.

More than 400 questionnaires were returned and as one 14-year old from a Sheffield school said; "MACH has given me an even bigger insight into the world of engineering".

Although improving young people's knowledge and understanding of the industry is part and parcel of MACH, first and foremost it is a trade show designed to grow businesses, generate contacts, build networks and showcase the very best of our sector.

As MTA President Simon Pollard said "We measure MACH's success by what it achieves for exhibitors in terms of sales, orders, potential leads and new enquiries.

We create a show to foster exactly this kind of business and networking environment and as such MACH is now widely recognised as the place to source, see and buy new and innovative equipment, machinery and applications." The next MACH will take place at the NEC Birmingham from 7th to 11th April 2014.
RELATED ARTICLES
No related articles listed
OTHER ARTICLES IN THIS SECTION