Ir thermometers
25 January 2013
Fluke's two new infrared thermometers - the Fluke 62 Max and 62 Max+ - are rugged, accurate, easy-to-use test tools. Dust, moisture and drop resistant, they are suitable for the harsh conditions faced by technicians in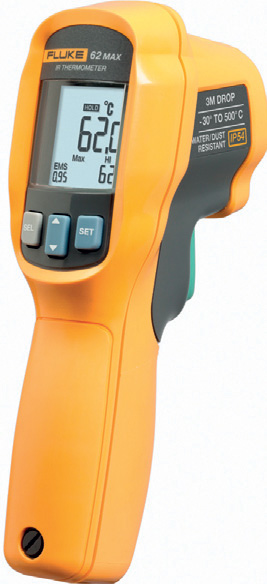 Fluke's two new infrared thermometers - the Fluke 62 Max and 62 Max+ - are rugged, accurate, easy-to-use test tools. Dust, moisture and drop resistant, they are suitable for the harsh conditions faced by technicians in electrical, service, HVAC, process, industrial and facilities maintenance applications.

They are suitable for quick temperature scans of systems to look for anything from unusual hot spots that signal electrical and electro-mechanical malfunctions to undesirable air intake/ output patterns in the building envelope.

Fluke 62 Max+ has dual, rotating lasers to accurately identify the measurement spot size.

Both instruments survive 3m drops to wooden floors and are IP54 rated. The 62 Max has a distance-to-spot ratio of 10:1 and measures from -30 to 500°C with an accuracy of ±1.5% of reading. The 62 Max+ has a distanceto- spot ratio of 12:1 and measures -30 to 650°C with accuracy of ±1.0% of the reading.
OTHER ARTICLES IN THIS SECTION