Tugs, traction and reducing risk
25 January 2013
Tugs can be used to help employees move heavy loads easily, reducing the risk of manual handling injuries. Here, Andy Owen, managing director of MasterMover explains some of the issues to Simon Duddy, editor of IP&E's sist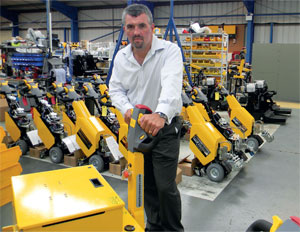 Tugs can be used to help employees move heavy loads easily, reducing the risk of manual handling injuries. Here, Andy Owen, managing director of MasterMover explains some of the issues to Simon Duddy, editor of IP&E's sister publication - Handling & Storage Solutions

Outlining what he sees as key benefits of the MasterMover industrial tug range, Andy Owen says: "The machines are pedestrian operated, safe in comparison to forklifts and easy to pick up and use. They don't have the restrictions of licensing associated with forklifts. We're seeing some customers say they want to move away from using forklifts inside premises. There is greater demand for space and it cannot be wasted.

"Companies want to use premises for valued production, not as space for forklifts to operate. It can be expensive to add extensions and buy new premises, so there is an imperative to maximise space. Companies can achieve this with smaller machines.

Traction Traction too is an important factor for MasterMover: "If you want to put extra weight on a unit to develop traction, it's a restrictive and inefficient way of doing it.

What makes us stand out is our patented design that allows customers to move heavy loads with relatively light equipment.

"Our industrial tug range uses a weight transfer principle, and utilises a hydraulic lifting device, which sits over the top of the drive wheel. When our interface connects with the coupling system, it creates an upwards force. We're using some of the weight of the load to generate a tractive effort.

"But it's not just about moving the load, smooth operation is key and we deliver this.

The operator only needs to concern himself with steering; if he wants to stop he simply lets go, and in a controlled manner, the tug comes to a stop.All products are AC driven.

This allows us to programme the machines.

For example, in the pharmaceuticals industry we could be moving a 1500kg load carrying fluid. The customer doesn't want abrupt stops that move the fluid, they want very controlled movement.

"In essence, a machine can have a host of technologies - motors, control systems, electronics, to create power and drive, but if the wheel is spinning on the floor, the power is worthless. Traction is key and that is what we have mastered.

Reducing injury risk "The use of the tugs reduces the risk of manual handling injuries. We do a lot of work in the healthcare and retail sectors, which are very reliant on roll cages. One person generally will move one roll cage manually and these can carry 4-500kg. Our Smart Mover, for example, takes the strain off operatives. In addition, it increases efficiency. It is a small device and is capable of moving multiple cages. It's easy to use, hooks up to the first cage, and we've developed systems to allow the tug to pull a train. We find that safety and efficiency improvements go hand-in-hand.

"In factories that manufacture high volume products, our tugs are used to move products and components from point to point in the manufacturing process. Interestingly, in low volume, high value manufacturing (such as aerospace), the tug can become the semiautomated track. The product becomes a low cost 'conveyor', if you like.

Looking ahead "We will launch two new products next year, one for the industrial market and one for the healthcare market. We're also always looking at new conversions and adapters for the machines. The attachment side is very important, and has to be designed well. We test our attachments thoroughly as customers may want to move 8t point to point, and will want it to work in a straightforward way.

"It is important in the healthcare market, for example, to make sure machines interact with the various equipment clients have, while at the same time being as intuitive and easy to use as possible. After all, lots of people in healthcare are not accustomed to using industrial equipment. There is a learning curve.
OTHER ARTICLES IN THIS SECTION