Central suction and filtering systems
25 January 2013
The TEKA ZPF 6H and ZPF 9H central suction and filter units available from Flextraction, UK representative for TEKA, Germany, are designed for use in fabrication shops, where large amounts of polluted air are to be c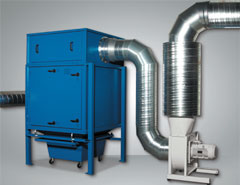 The TEKA ZPF 6H and ZPF 9H central suction and filter units available from Flextraction, UK representative for TEKA, Germany, are designed for use in fabrication shops, where large amounts of polluted air are to be cleaned.

The central self-dusting cartridge filter systems incorporate multisuction from a number of extraction points and are suitable for companies carrying out welding and general fabrication work with non-alloyed metal, precious metals, galvanised materials and aluminium.

Features include a separation efficiency of >99% conforming to welding fume category 'W3' for high alloyed steels; sound level is around 72bG(A). Units have fully automatic microprocessor controlled de-dusting, using 'Pulse Controlsteering'.

This automatically adjusts airflow, which can be monitored on an easy-to-read text indicator.
OTHER ARTICLES IN THIS SECTION