Upgrades made to automatic lubricators
25 January 2013
The latest generation of SKF System 24 single-point automatic lubricators provides a reliable, easy to use, and cost-effective way to deliver a continuous supply of lubricant to plant machinery components. Improvements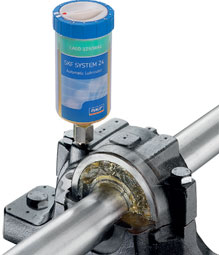 The latest generation of SKF System 24 single-point automatic lubricators provides a reliable, easy to use, and cost-effective way to deliver a continuous supply of lubricant to plant machinery components.

Improvements to the previous system include tool-free set-up, easily detachable batteries, improved dial readability, redesigned top ring for better grip, and a deactivation mode that is useful during maintenance.

These easy to install and use devices deliver premium quality SKF lubricant, and allow a large number of lubrication points to be covered in a cost effective, reliable way. By removing the need for manual lubrication practices, the result is continuous lubrication of machine components, even in applications subject to high levels of contamination, or in demanding, hard to reach, remote, and hazardous areas (the device is ATEX certified).
OTHER ARTICLES IN THIS SECTION