Energy Meter Range
29 July 2013
MWA Technologies specialise in domestic and commercial energy flow meters and accessories, our range includes ultrasonic and turbine energy meters, modules, sensors and ancillaries.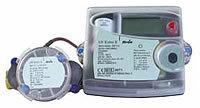 Ultrasonic flow meters
An ultrasonic flow meter is a type of flow meter that measures rate by using ultrasound. Our range of ultrasonic flow meters include: Itron, US and Kamstrup meters.
Energy modules
Our communication, supply, top and base modules include: Multical and RTC with analogue and digital display models.
Energy meter ancillaries
Our ancillaries include, calculators, concentrators, integrators and cables.
Turbine flow meters
A turbine measures the speed of flow inside the meter, this is sent to either a mechanical or electronic counter. Our range of turbine flow meters include: Integral 15mm – 110mm meters.
Energy Sensors
Pocket and direct sensor range from 1.5m – 10m cables and fittings.
OTHER ARTICLES IN THIS SECTION