Valves Gas Solenoid
29 July 2013
Gas solenoid valves auto or manual reset class A EN161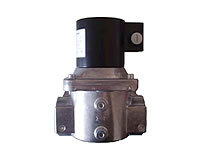 Class A EN161 DIN3391 to 3394 IP54
Gas solenoid valves suitable for natural gas, propane and LPG.

8mm Tapping's for pressure gauge or connection to a gas proving or interlock system with the gas solenoid valve.

Available in 230vAc, 24vAc gas solenoid valves.

Class F coil.

Open / Close <1 second.

Die cast aluminium body with steel mesh filter.

Auto reset gas solenoid valves, manual reset gas solenoid valves available, easy fit cpi switch for closed indication.



OTHER ARTICLES IN THIS SECTION