ATEX approved
19 August 2013
Maintaining low levels of dust, particularly from organic compounds, is essential to avoid the risk of explosion – this is the message from BVC.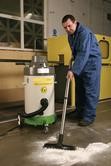 To highlight the risks, the company has a short video on the catastrophic effects of sugar dust build-up, which can be viewed at www.bvc.co.uk/video/atex.html
The problem has been addressed by legislation in the EU ATEX directives phased in since 2003.
Keeping the working environment clean and 'dust free' is normally done using an industrial vacuum cleaner - the problem is that without the right type of vacuum cleaner the machine itself may be the source of ignition, via a spark from the electric motor.
To overcome this problem BVC has launched a range of ATEX approved vacuum cleaners for use in potentially explosive environments.
OTHER ARTICLES IN THIS SECTION