Bounce-back rack protection
19 February 2014
Rack Sentry is a polyethylene, stress-crack resistant upright rack protector that minimises the force of tow motor impact that can damage the structural integrity of racks and floors.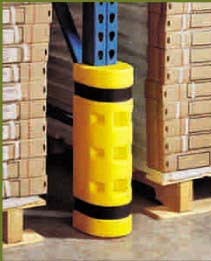 It features nine pockets, strategically placed and angled to deflect impact energy away from the rack. Molded from semi-flexible EVA material, Rack Sentry returns to its original shape following impact.
The product was tested to a limit of three mph using a 5000lb (capacity) forklift with no visible damage to the rack upright, the forklift, or the product. It exceeds the European FEM standard of 400N.m protection recommended for rack uprights.
In bright yellow, it is highly visible and the UV stabilised plastic reduces fading. No tools are needed for installation. The Rack Sentry is easy to remove for maintenance, easy to clean, waterproof, chemical-resistant and non-conductive. It comes in a variety of widths to protect uprights of 3 to 4.75in. Each piece is 18in tall. Units are stackable for greater protection.
In addition, Sentry offers Rack Sentry LT (Low Temperature) for temperatures below 32° F/0° C; Rack Sentry End for the front and end of the rack in high traffic areas; and Rack Sentry Cut-out for beams installed close to the ground. Rack Sentry Cut-out inverts to accommodate beams as low as 5in from the floor, or as high as 7in from the floor. Rack Sentry Cut-out protects the rack upright above, below and at the beam.
OTHER ARTICLES IN THIS SECTION