Shire's new Pirana CMMS - New powerful mobile products.
20 February 2014
Shire Systems, has released the new version of Pirana CMMS including an effortlessly simple, yet powerful set of mobile applications for use on or off-line, Pirana Mobile PRO.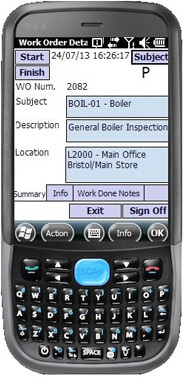 Work Orders PRO delivers a wealth of work order detail including documents, parts, labour costs, readings and images, all with powerful searching. Simple work order signoff can also be initiated by scanning a barcode and can record signatures and PIN numbers. New (or even follow-on) work orders can be created for immediate work or to be assigned for later.
Meter Routes are easily managed and users can record various details including meter type, limits, subjects, reading type, last reading date, last value and rollovers.
Data Collector PRO enables swift and accurate recording of new assets, locations and movements. This useful function will register codes, description, categories, locations, model, manufacturer, serial no, activity, priority etc.
Materials PROfacilitates efficient issues, deliveries and stocktakes. It is easy to print labels of your own design, incorporating barcodes, text, QR Codes, and RFID encoding.
Pirana Mobile PRO will work on a variety of devices. Depending on choice, budget and working environment Shire Systems can advise on or supply a range of devices including those that are ruggedised, drop tested, submersible, IP67, ATEX compliant, integral barcode or RFID scanner.
Shire has a full schedule of FREE CMMS roadshows for 2014 and also offers a FREE, no-obligation, fully functional demonstration system, so there are plenty of opportunities to try before you buy.
OTHER ARTICLES IN THIS SECTION