Connection simplified
16 June 2014
Schaeffler has launched two new products that simplify the distribution of power and input/output (I/O) signals of up to four FAG SmartCheck online condition monitoring devices, resulting in reduced cabling costs and faster, easier installation.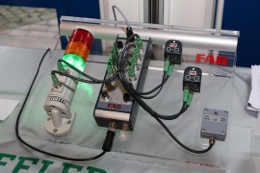 The FAG SmartConnectBox power supply unit enables easy distribution of power supply inputs and outputs to a maximum of four FAG SmartCheck devices. In addition, a standard speed sensor and Schaeffler's new FAG SmartLamp local alarm indicator unit can also be connected to the FAG SmartConnectBox.
Rather than running separate cables from four FAG SmartCheck devices to a speed sensor, this new system is said to provide a cleaner solution, particularly when monitoring the condition of large rotating machines such as electric motors and variable speed drives.
FAG SmartCheck is a compact, online condition monitoring device that monitors vibration and temperature, as well as a range of other machine and process-specific parameters such as pressure and flow rate. By monitoring these parameters, users are provided with a broad basis of information in real time, which enables the accurate assessment of machine condition. The device is typically mounted direct to the machine housing. Small and lightweight, the device can fit into areas on a machine where space is restricted.
Due to its IP67 protection rating, the FAG SmartConnectBox can also be mounted direct to the machine being monitored. The user has to provide power supply to the SmartConnectBox, but configuration of the FAG SmartCheck device is not always necessary – the user simply plugs in the devices with the standard cables provided and the system is ready to use in the default setting. FAG SmartConnectBox also provides two analogue inputs (0-10V, 4-20mA), four analogue outputs (0-10V, 4-20mA) and a digital output, enabling the system to output data to other production control systems and PLCs.
FAG SmartLamp enables local visualisation of the alarm status of each SmartCheck device. This is useful if the four SmartCheck devices are installed on the machine in a location that is hidden from view.
OTHER ARTICLES IN THIS SECTION