Beko Clearpoint
14 May 2014
The efficiency concept for compressed-air filtration CLEARPOINT®: the filter generation with the 3E effect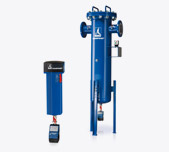 Make use of saving potentials
The CLEARPOINT® principle for the reduction of energy and operating costs
During compressed-air processing, the highest saving potential lies in the reduction of the energy costs: depending on the capacity utilisation of the plant, these amount to up to 80 % of the total costs. The energy consumption is significantly influenced by the filtration of the compressed air: the pressure drop resulting from filtration needs to be compensated by higher compressor performance to maintain the required operating pressure. The consequences are higher energy demand, premature compressor wear and thus higher costs.
With the CLEARPOINT® compressed-air filter series for volume flows from 35 to 34,680 m3/h (at 7 bar), an economic concept for efficient compressed-air filtration is now available. Through innovative filter elements and a flow-optimised, corrosion-protected housing construction, CLEARPOINT® offers safe and reliable filtration, and qualitatively better compressed air at significantly reduced operating costs.
To find out more information on BEKO

CLEARPOINT®

please CLICK HERE.
RELATED ARTICLES
No related articles listed
OTHER ARTICLES IN THIS SECTION