Unique multi-point lubricator caters for up to eight different bearing positions
17 June 2014
Schaeffler's new multi-point lubrication system for rolling bearings can be adjusted to provide four different lubrication volumes to cater for bearings with varying lubrication requirements – an industry first.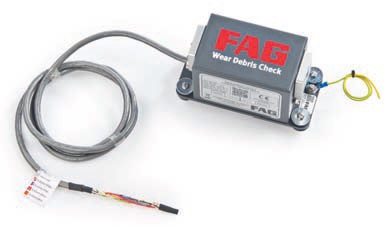 FAG CONCEPT8 is an innovative, cost effective multi-point lubricator that ensures a constant, optimum supply of grease to the bearings without the need for manual intervention, particularly if machines are located in difficult-toaccess areas or are deemed as critical to the production process.
FAG CONCEPT8 provides up to eight separate lubrication points for dispensing precisely metered quantities of lubricant to rolling bearings. The system can dispense lubricant to rolling bearings in a wide range of applications, including pumps, fans, compressors, gearboxes, electric motors, machine tools and wind turbines.
The system is fitted with four pairs of lubrication points (eight in total), which are controlled by four individual dispensing pumps. Unlike other multipoint lubricators on the market, FAG CONCEPT8 enables users to individually control each pump in order to optimise cycle times and volumes of dispensed lubricant. This means the system can be adjusted to meet up to four different bearing sizes, each with varying lubrication requirements. Rather than having to purchase multiple single point lubricators to cope with different bearing lubrication requirements, users can now buy one FAG CONCEPT8.
FAG CONCEPT8 is also equipped with heated outlets, which ensure reliable dispensing intervals, even at low temperatures when the grease is more viscous. In addition, as the lubricant is stored in a transparent replaceable cartridge, users can easily check the lubricant level, enabling easier fill-level control. The system is easy-to-use with an integrated LCD user display that provides clear navigation menus and two keypad control buttons for set up and adjustment.
FAG CONCEPT8 operates on Schaeffler's ARCANOL range of lubricants. This range includes 17 different greases, each one developed by Schaeffler application engineers and produced by leading international lubricant manufacturers.
These greases therefore provide specific lubrication properties for almost every type of industrial application.
Monitoring oil and vibration
Fixed (online) condition monitoring systems can be set up to monitor both the condition of the lubricating oil and the vibration of rotating parts, enabling the early detection of damage to heavy duty, oil-lubricated industrial gears.
Schaeffler's FAG Wear Debris Check oil monitoring system indicates damage or wear to bearings, cages and gears within a gearbox or other industrial gear unit.
The system requires no calibration and is suitable for use in almost every industry sector, providing plant operators with a reliable system for preventing unplanned downtime and reducing MRO costs.
The system's oil monitor works by utilising an inductive particle counter (sensor), which is able to distinguish between ferrous and non-ferrous metal particles that are present in the lubricating oil. On a typical gearbox application, the particle counter or sensor is installed in the oil flow, directly before the oil filter, or as a separate circuit. The sensor operates on the principle that any wear to a component such as a bearing or gear tooth will result in small metal particles being rubbed off into the oil, often several months prior to an actual failure.
OTHER ARTICLES IN THIS SECTION