Remote control of compressors
08 August 2014
A new remote diagnostic tool, the BOGE airstatus, is designed to increase safety and transparency in compressed air production and all associated components.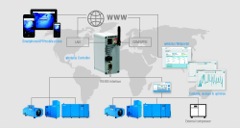 This new solution helps maintain the high-level performance and efficiency of user's compressed air stations and is suitable for monitoring and managing complex systems and plants.
Users are able to quickly and easily analyse and control the status of up to 32 components from anywhere in the world. Process data such as status, maintenance messages, temperatures and pressures are directly transmitted and displayed via the web portal, making airstatus a powerful remote diagnostics tool. This enables users to identify, analyse and react immediately to fault messages on their computer or smartphone, reducing the time needed to correct faults.
Alternatively, users can employ the BOGE airstatus for condition monitoring in order to manage proactive measures, such as planning and coordinating maintenance.
OTHER ARTICLES IN THIS SECTION