Bespoke workholding solutions
24 September 2014
Wartsila specialises in the production of sealing solutions for ship machinery, propulsion and manoeuvring systems, as well as special applications, such as tidal and industrial power. The company has invested in advanced CNC manufacturing technology supported by bespoke workholding solutions provided by Leader Chuck Systems.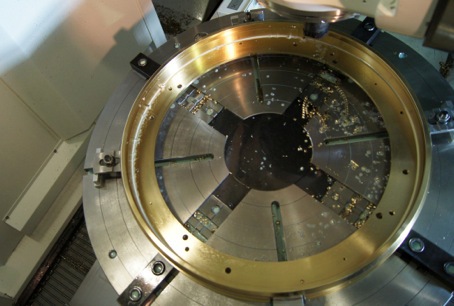 Installed during September 2013, as part of an ongoing global investment programme, the company's new Mazak 1060 V CNC machining centre is equipped with a 10-pallet automated changer. It has the capacity for a further 10 pallets as business grows, with the option to add further machining centres to create an FMS.
Currently, the pallets are fitted with two 6-jaw chucks; two with cubes, which elevate the workpiece to allow the spindle of the Mazak machine to fully access the component; and three 4-jaw chucks.
Both the 6-jaw chucks, manufactured and supplied by Leader Chuck Systems, have been designed to hold a range of components. With the jaws reversed components of around 400mm diameter can be held. With the jaws located on the outside face parts up to around 630mm diameter are securely fixed.


OTHER ARTICLES IN THIS SECTION