Double deck lifts
10 November 2014
Transdek UK has installed two 6.5t double deck surface-mounted lifts at Booths' dedicated Bluebell Distribution Centre near Ribbleton.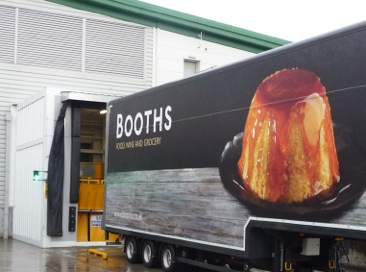 The self-contained modular loadhouse units took just 1.5 days each to fit and commission by Transdek's engineers accredited under the safecontractor scheme.
Each lift has been tailored to accommodate a specific requirement at Booths warehouse facility. One is for handling ambient grocery products and has a retractable dock shelter, while the second unit is for loading chilled food and drink, and features an inflatable dock shelter and insulated cladding to minimise thermal transfer. Both lifts incorporate a wide range of safety features, including interlocked dock management systems, and energy saving technology, such as LED traffic lights and loading lamps.
With a streamlined design for simple maintenance, the high efficiency lifts provide fast loading speeds that enable Booths to maximise the use of its new double deck trailers. These can carry more volume than conventional vehicles and require fewer vehicles to deliver goods, which can reduce transport-running costs by up to 40%.
Mark Glover, Head of Logistics at Booths, said: "Transdek was able to tailor the lifts to our requirements, install both modular units quickly and effectively, allowing the site to operate normally during the process.
"From the start the Transdek team fully understood our requirements and we can now very efficiently load our fleet of double deck vehicles, which is key to our aim of reducing the number of deliveries we make and carbon footprint."
Transdek was also commissioned to develop a specially adapted double deck scissor lift for internal fitment in the loading bay at a new Booths store in Barrowford, north of Burnley. This is positioned sideways onto the loading bay, to accommodate the site's specific space restrictions, without slowing down unloading speeds. The lift platform holds up to 12 rollcages, which are loaded across the platform. A bespoke-designed protective frame surrounds the lift pit, incorporating electrically-interlocked loading gates and a separate personnel gate.
OTHER ARTICLES IN THIS SECTION