Rotary vane additions
03 November 2014
Hydrovane, part of the Gardner Denver Group, has launched the HR Regeneration series, a range of rotary vane compressors designed to deliver energy reductions for operators requiring a reliable and efficient source of industrial air.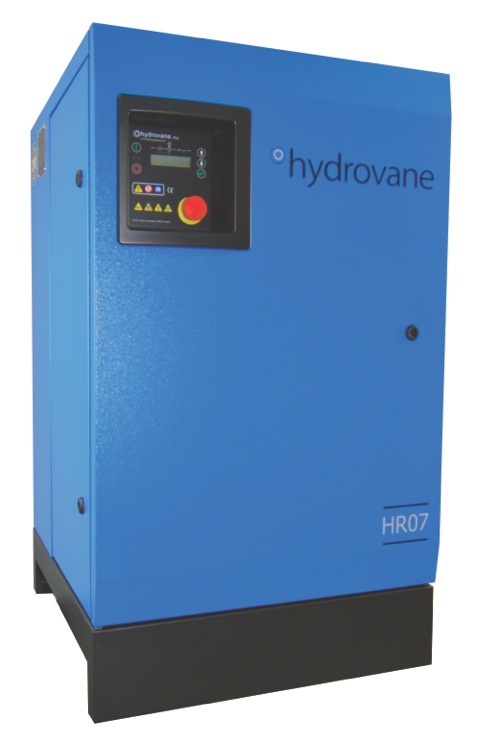 Customers benefit from a range of enclosed vertically-configured compressors from 4 to 7.5kW that have a host of intelligent design improvements. Integral to the new design is a package of energy-saving features.
The first of these is the Smart Servo energy reduction system that ensures air is only generated when it is required by the system. At full load, the air path is closed to save air loss until the system comes back on line as demand increases.
Hydrovane has also redesigned the core air end to deliver enhanced energy performance. Its rotor design with integral shaft and direct-drive coupling has been optimised to improve power consumption while increasing airflow.
Further energy savings are enabled through the highest-efficiency IE3 motors, lighter rotary vanes and the REVS reduced energy venting system for lower off-load power consumption.
The new HR range is available as an enclosed package, with options including compact receivers, inline filtration and the latest Gardner Denver
F-HS series of refrigerant dryers. An inverter option is available on the HR07 RS; a 7.5kW, regulated-speed compressor, which continually adapts to meet air demand and therefore improve power efficiency.
Hydrovane has also developed an entry-level, open compressor range incorporating 5.5 and 7.5kW open receiver-mounted packages. Retaining the traditional horizontal format, but using the same efficient HR compressor design, these compressors offer an ideal alternative when a fully enclosed unit is not required.
Particular attention has been paid to the regeneration airend design, to enable easy integration for a range of OEM applications. Its direct drive enables easy coupling to electric or hydraulic motors, petrol and diesel engines and output drives. Suitable for vertical or horizontal mounting, the air end also offers a compact, lightweight design for ease of installation.
Easy of maintenance has also been considered at every stage of the redesign, with easy-access components to ensure routine service times can be kept to a minimum.
Commenting on the new range, Andy Webb product manager from Gardner Denver, said: "When we set about designing our latest compressor concept, we knew that it was important to retain the features that have made Hydrovane a trusted brand for reliability and efficiency. But importantly, we wanted to develop a compressor that would be able to adapt to increasing demands for energy efficiency and this meant we had to completely re-engineer key components.
"From the air end to the motor to the intelligent energy reduction system; the result is Regeneration - a completely new compressor design on the inside, with the reassuringly familiar look and feel of a Hydrovane on the outside."
All HR package compressors are available with Hydrovane's Advance 10 extended warranty.
OTHER ARTICLES IN THIS SECTION