Special filter technology
20 November 2014
BOGE has launched an all-in-one compressed air solution for users operating in the surface technology sector.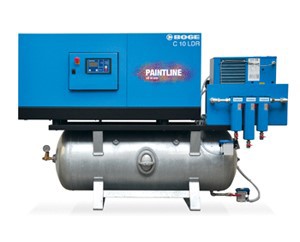 Paintline enables users to generate extremely pure, oil-free compressed air that is precisely tailored to their needs. It combines key components for generating and filtering ultra clean compressed air and covers a performance spectrum from 5.5 to 22kW.
BOGE Paintline is based on an oil-injection cooled screw compressor with special filter technology. It attains class 1 purity where solid impurities and residual oil content are concerned, and class 4 purity where water content is concerned. An all-in-one solution, it includes compressed air generation, compressed air treatment and condensate disposal. Maintenance costs are said to be kept to a minimum.
OTHER ARTICLES IN THIS SECTION