Speedy set-up
28 November 2014
Leader Chuck's new ZeroClamp zero point clamping system is designed to reduce set-up times and increase machining efficiency.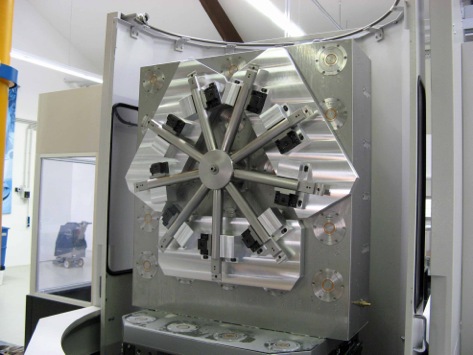 Mark Jones, MD, believes a number of features set this robust workholding solution apart from competitor systems: "Using the face and taper HSK spindle tooling principle the Leader ZeroClamp can achieve a repeatability of ±2.5 micron. It is around 10 times more accurate than some existing systems.
"As the hollow, tapered-shank bolt is drawn into the clamping pot the elastic properties of the seating ring expand slightly, allowing the taper to locate positively and the faces of the pot and the pallet or raw material to engage and locate solidly. Subsequently each fixing point has a break-out force of between 12.5 kN and 60 kN, depending on the clamping pot diameter."
This principle also removes any machining induced vibration, minimises all thermal effects and compensates for hole misalignments of up to ±0.1mm as the tapers always compensate towards the centre of the clamping position.
The tapered bolts are produced from case hardened 42CrMO2 steel and are very strong, allowing the workpiece or raw material to stand on them for storage. Only one design is used.
"Thanks to the highly accurate repeatability of the ZeroClamp system parts can be unloaded and reloaded with the minimum of fuss. So, moving components from one machine to another can be carried out without any accumulated errors, and important features can be measured part way through the machining sequence with the safe knowledge that the part can be reloaded accurately," says Mark Jones.
Another advantage of the taper bolt design featured on the Leader ZeroClamp design is the ability to tilt the pallet or workpiece during loading and unloading without fear of damage, making heavy and unbalanced workpieces easier to handle. It also means the units can be fitted at any angle, so they can be used in conjunction with tombstones or similar fixtures on horizontal machining centres.
Fail-safe clamping is achieved on the Leader ZeroClamp system by a stack of precision manufactured segmented spring steel collars that, by design, lock the taper bolt in. These collars are opened by an expanding bellows inflated with compressed air at standard shopfloor pressure. The bellows are guaranteed for 1 million operational cycles.
The simple design uses just a few high quality stainless or corrosion resistant steel components so it is very robust and is unaffected by swarf or coolant ingress; pots can be quickly cleaned with a blast from a standard airline gun.
OTHER ARTICLES IN THIS SECTION