Wide range of machine tools
08 January 2015
XYZ Machine Tools will be filling its stand at Southern Manufacturing with a cross-section of its machine tool range.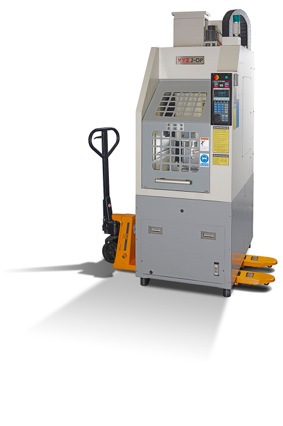 To show the capability of machines equipped with ProtoTRAK, XYZ Machine Tools will demonstrate the ability and simplicity of the control on an XYZ SMX 3500 bed mill and an XYZ ProTURN SLX 425 lathe. The ProtoTRAK control system supplied with these machines is suitable for one-off and small batch quantities. Even without any knowledge of CNC, XYZ says operators will be producing parts within a day. The machines feature robust construction, including solid Meehanite castings, Turcite-B coated bedways on the mills, and extra wide vee and flat bedways on the SLX lathes. This combination provides a rigid and accurate machining platform for a wide variety of machining applications.
Those looking at full CNC equipped machines will be able to view an XYZ 710 VMC vertical machining centre and an XYZ Compact Turn 52 turning centre. Across the XYZ VMC range there is a common feature of high quality manufacture, with features such as solid Meehanite castings and extra wide induction hardened box slideways with Turcite-B coatings adding to rigidity and performance. Standard specification of the VMC range includes an 8000 revs/min 20 hp spindle, with feedrates up to 20m/min in all axes. Additionally, customers can specify between the Siemens control with ShopMill conversational programming or the Fanuc production control, to suit their own needs.
The Compact Turn 52 may be the smallest turning centre in the extensive range of CNC turning available from XYZ Machine Tools, with a footprint of just 1700 mm by 1450 mm in its standard form. However, it still provides a powerful machining platform thanks to its 5000 revs/min/20 hp spindle and axis travels of 185 mmm and 325 mm (X and Z), with rapid traverse rates of 20 m/min. Like all of the machines in the XYZ range, these turning centres benefit from a highly rigid and stable construction, with hardened and ground box slideways and solid meehanite castings for the major components.
Also on display is the new XYZ 2-OP portable vertical machining centre, which has the ability to bring cellular manufacturing to almost any engineering business due to its versatility and ability to be positioned anywhere in the factory. With the XYZ 2-OP any business can benefit from the efficiencies of cellular manufacturing, such as maximising available labour hours, reducing work in progress, and significantly improving machining efficiencies through reduced component Takt time.
OTHER ARTICLES IN THIS SECTION