Kite Packaging to Showcase Automated Solutions at Southern Manufacturing Show 2015
02 February 2015
Celebrating a year since the launch of 'Wrap and Hold', Kite will be positioned on Stand Q8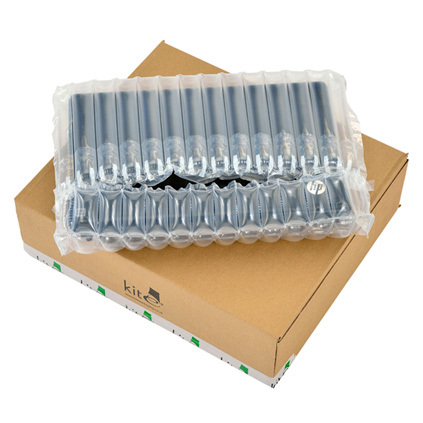 Kite Packaging, the UK's premier packaging supplier, will be showcasing a range of packaging systems at the highly anticipated Southern Manufacturing and Electronics Show in Farnborough, Hampshire.
Situated on stand Q8, Kite will also be celebrating one year since the launch of 'Wrap & Hold'. The universal packaging system, that combines stretch wrapping with corrugated packs, was officially launched at last year's Southern Manufacturing show, and since then has been tried and tested by Kite's business customers.
The system has been highly praised by one of Kite's large engineering clients, who have used the machine and robust 'platform pack' to create a more cost-effective and time-saving solution to ship heavy engineered parts, and Kite hopes to attract similar customers at this year's show.
Along with the Wrap & Hold system, Kite will also be demonstrating the cheapest air cushion system on the UK market, the Kite Mini Air, the fastest paper machine on the market, the Kite Enviropad and its range of rigid, burst resistant air packs, known as Kite Air Shock.
All of Kite's systems have been well established, and put in to several operations to improve efficiency, reduce damage rates and save costs for their customers. A spokesman for the company said;
"Southern Manufacturing is a great opportunity for us to talk to companies that can really benefit from our systems, in particular the manufacturing and electronics industry. We specialise in industrial solutions, and we hope that visitors will take advantage of us being at the show, so they can ask us questions, get advice and watch our demonstrations."
The company won't be difficult to spot either, as they have designed a brand new stand for their 2015 exhibition plan which includes appearances at Spring Fair, Packaging Innovations and Autumn Fair. Look out for the instantly recognisable rolling green hills and blue skies, a nod to Kite's impressive environmental credentials.
Visit Kite Packaging from 10th– 12th February at the Southern Manufacturing & Electronics Show in Farnborough, Hampshire. For more information about Kite's products and services please visit www.kitepackaging.co.uk
OTHER ARTICLES IN THIS SECTION