Storage shuttle
16 March 2015
With its first year under its belt and new premises now open, YLOG Industry Solutions, a wholly owned subsidiary of KNAPP, is looking to the UK for potential customers for its shuttle storage technology.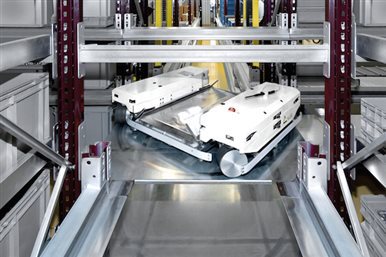 The YLOG-Shuttle system is unique in its concept of enabling shuttles to move both crosswise and lengthwise in a store by rotating. Explains Craig Rollason, managing director of KNAPP UK: "With swivelling wheels and an innovative power supply system, YLOG shuttles can move in either direction within the racking by rotating. This allows them to reach every location in the store and also - through the addition of spurs - to serve workstations directly. This capability makes the YLOG solution especially suitable for production or assembly applications."
The YLOG shuttles move between levels via specially designed lifts, so a single shuttle can automate an entire rack system. Modular design allows more shuttles, racks or lifts to be added to suit higher throughputs.
OTHER ARTICLES IN THIS SECTION