Partner in factory automation initiative
11 March 2015
Schaeffler is now a partner in the e-F@ctory Alliance, a factory automation initiative by Mitsubishi Electric Europe.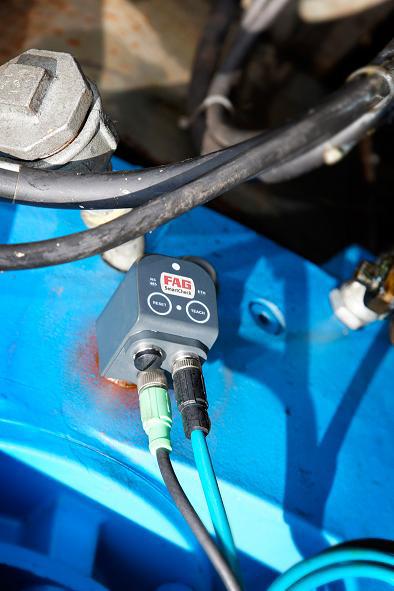 The FAG SmartCheck condition monitoring device from Schaeffler is now a certified e-F@ctory Partner Product and will play a key role in helping customers move towards Industry 4.0.
e-F@ctory is the Mitsubishi Electric solution for improving the performance of manufacturing enterprises. It is said to provide three key benefits: reduced total cost of ownership, maximised productivity, and seamless integration.
Since its launch in 2011, FAG SmartCheck has been continuously developed. It is an extremely compact device that can be used to monitor vibration and temperature, as well as a range of other machine and process-specific parameters. By monitoring these parameters, users are provided with a broad basis of information in real time, which enables the accurate assessment of machine condition. Due to its self-learning (Teach-In) mode, the device's alarm thresholds are adjusted automatically. After set up and commissioning, the unit operates autonomously. The relevant machine parameters are measured and saved continuously in the system, creating a substantial database of historical data over time.
FAG SmartCheck is one of a small number of solutions available in the market that is suitable for use as both an individual monitoring device for smaller redundant units, as well as for integrated concepts such as comprehensive condition monitoring of machines and manufacturing processes.
The joint solution provided by the e-F@ctory partnership, combines the Mitsubishi Electric control unit with the FAG SmartCheck to form a pre-configured overall solution for the customer. This facilitates an automated link from the manufacturing level through to the control level.
Unlike some monitoring concepts that typically measure conventional values such as temperature, pressure and operating hours, FAG SmartCheck provides additional vibration-based parameters. In conjunction with the Mitsubishi control unit, it is possible to develop a comprehensive solution for assessing the condition of a machine or system. The data can be sent via Ethernet (e.g. Ethernet TCP/IP protocols or web services) to other data receivers, such as the automation control units of other manufacturers or database-supported receivers, such as SCADA or Manufacturing Execution Systems (MES).
OTHER ARTICLES IN THIS SECTION