Glove developments
27 March 2015
A nitrile-dipped, 13 gauge glove without glass fibre has been introduced by Honeywell and reaches the highest level of cut resistance (Level 5) according to EN 388: 2003.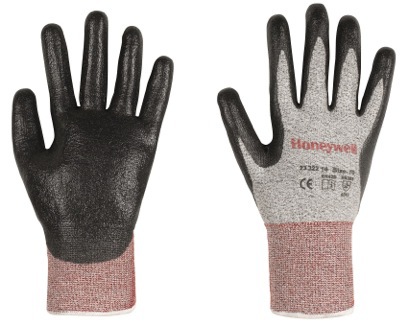 Perfect Cutting Diamond gloves provide effective protection against common cut hazards for workers in industries such as automotive manufacturing, aerospace, construction and glass production.
Stephanie Quilliet, product manager, Honeywell Safety Products in Europe, Middle East, and Africa, comments: "Incorporating Dyneema Diamond Technology, the new Perfect Cutting Diamond gloves are a complete game-changer and have excelled in our customer field tests. Not only do the gloves offer level 5 cut resistance, they also provide maximum dexterity and comfort and are free from glass fibre."
The nitrile-dipped coating on the palm and fingers of the Perfect Cutting Diamond gloves offers a high level of durability and enhances grip and dexterity, making the gloves suitable for handling sharp parts in dry or greasy environments. The tight knit 13 gauge material used is reported to be eight times thinner than nylon and twice as thin as aramid performance polyethylene fibres. The gloves are comfortable, lightweight and highly breathable.
The gloves also offer level 4 abrasion and tear resistance according to EN 388: 2003 which, when combined with the level 5 cut resistance, makes them suitable for anyone facing cut risks such as those experienced when handling metal sheets or sharp components.
Perfect Cutting Diamond gloves are available in sizes six to 11.
OTHER ARTICLES IN THIS SECTION