Smooth operator
04 June 2015
The latest arc welding robot from Kawasaki Robotics is designed for high output demand in crowded manufacturing environments.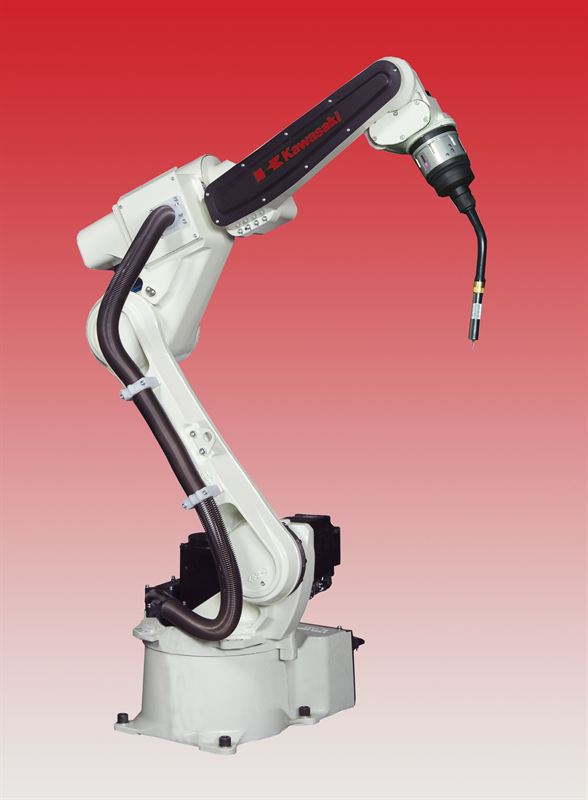 The Kawasaki BA-006N is a completely new, ground-up design suitable for densely populated robot cells, or stand-alone cells, where minimal space is available.
A lightweight arm design and high-output motors are said to provide best in-class re-orientation times between weld runs, while new anti-vibration control technology ensures smooth arm control for high speed short-pitch movements.
The arm and wrist of the robot are hollow allowing the internal routing of welding wire and gas to pass from the dress package, normally mounted on the top of the arm, through to the wrist. In addition to preventing in process cable snagging, this speeds on-site programming and eliminates 'cable positioning variables' to make off-line programming more efficient and maintenance faster.
Further enhancing the new robot's suitability for arc welding is its small footprint and its slim arm.
Using the latest Kawasaki E01 controller, the B-Series robot is said to have highly accurate trajectory control and faster programming execution.
Noburo Takagi, President European Operations, commented: "We've optimised the range and payload, 1.445m reach and 6Kg, to provide our best performing unit for a wide variety of industrial welding applications. Feedback from first users reflects surprise in the smoothness and composure of the robot's operation at very high speeds in confined areas."
OTHER ARTICLES IN THIS SECTION