Overspeed protection
27 April 2015
Sentry G3 is Sensonics' latest overspeed protection system for turbines and pumps. The four channel G3 module has an independent digital signal processor (DSP) for each channel of measurement, providing ease of scalability in combination with high integrity.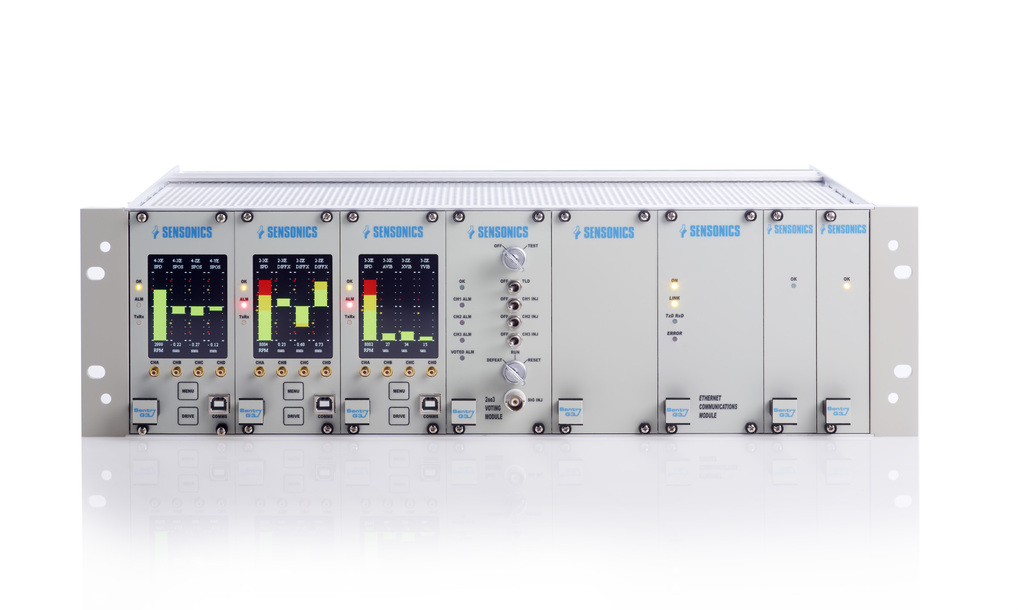 The DSP can be software loaded with the specific measurement algorithm which not only controls the sensor selection, but also the protection relay status and analogue output levels. This provides complete hardware autonomy from sensor through to the protection relay combined with a high channel density (24 channels in a 3U format).
It is typical for overspeed protection to use a two out of three (2oo3) voted channel arrangement to meet with stringent spurious trip requirements. This is implemented in G3 by using 3 modules, each with a single DSP channel to maintain channel hardware segregation, and configured with the overspeed algorithm. With G3, the remaining module channels can be used for other measurements such as bearing vibration, shaft position or temperature. Alternatively the DSP cards can be removed for a more cost effective solution
The rack based system operates on a dual +24V power supply backplane, either connected externally, or derived from the optional G3 dual redundant rack based power supplies. A voting module incorporating various test facilities is situated in the rack to perform the 2 out of 3 voting function.
When high integrity protection is required, the IEC61508 international standard for functional safety can be applied to ensure that sufficient integrity is designed into the electrical / electronic systems employed for the safety function. The Sentry G3 OSP achieves a SIL 3 rating in this respect.
OTHER ARTICLES IN THIS SECTION