Confined space harness
29 June 2015
Honeywell has launched the Miller H-Design confined space harness that has a specially designed belt that holds a respiratory mask, providing workers with a comfortable, flexible and easily accessible self-rescue solution.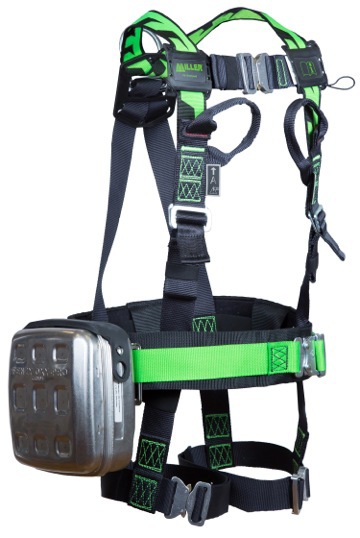 Céline Verdot, product manager of fall protection products for Honeywell Safety Products, EMEA, comments: "Based on customer research, wearing a self-rescuer mask on a traditional harness is not only uncomfortable but can be painful. The new Miller H-Design confined space harness offers users quick access to their respiratory mask whenever there is a known or potential exposure."
Suitable for use with all major self-rescuer masks on the market, due to a special single webbing attachment system, the soft and flexible padded belt is comfortable and can be adjusted in height to suit the user. The self-rescuer mask can be placed either on the front, side, or back of the harness for greater freedom of movement with a smooth, sliding action bringing the mask to the front of the belt quickly and easily in case of emergency.
The EN361:2002 compliant harness is available on its own or as a complete unit with belt. The belt is offered in two sizes (S/M and L/XL).
Verdot continues: "The Miller H-Design harness provides an unmatched user experience and workers using it feel free in their movements. This is thanks to the H-shaped design, which makes adjusting straps and buckles faster, while also offering greater freedom of movement."
Fitted with DuraFlex stretch webbing at the shoulders for additional comfort, the Miller H-Design has special features that make it up to three times faster to put on than some traditional harnesses.
The harness has two large, thin webbing loops for sternal attachment and a back D-ring which is positioned at an angle to make it easy to reach and connect to, whilst highly visible stitching and fall indicators positioned on front web loops and back plate make inspection of the harness simple for safety managers and workers.
OTHER ARTICLES IN THIS SECTION