Gas apparatus and pressure control products
29 June 2015
ESAB Welding & Cutting Products has announced the launch of a new range of gas equipment to expand its brand portfolio offering in the UK. The new product line includes Victor and ESAB gas apparatus and pressure control products.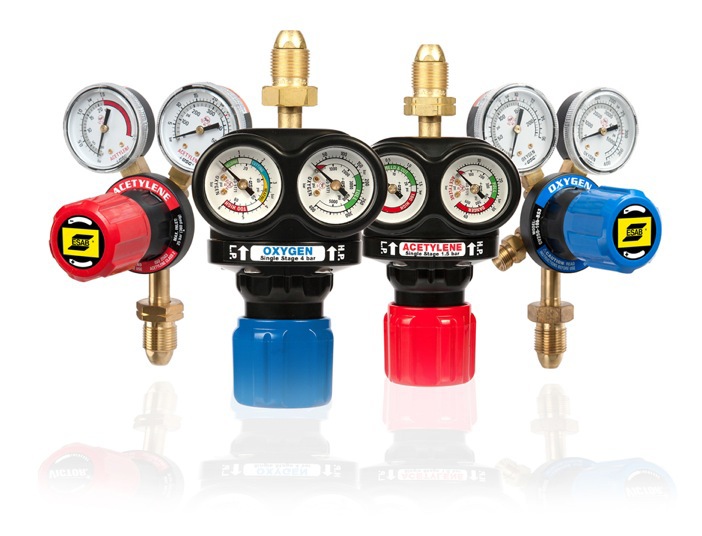 Included are gas regulators, torch handles, oxy-fuel cutting tips and attachments, flow meters, welding and cutting outfits, cutting equipment and more. These products cover the needs of general industrial as well as heavy duty mill and foundry requirements. With the new line, ESAB will phase out the Murex Saffire, Elite and Sabrecut brands.
New products include: ESAB EDGE ESS3 Single-Stage Regulators which feature an advanced, user-friendly design that protects the outlet hose connection, relief valve, gauges and regulator internals from damage. The housing cap is a zinc aluminium alloy that is said to be twice the yield strength of brass and the cap is mated to the forged brass body with six stainless steel bolts, which provides a flat metal-to-metal seal and consistent seal compression.
The SLAM (Shock Limitation and Absorption Mechanism) knob protects the regulator and cylinder valve in the event of a cylinder fall and can absorb more than 5000 lbs of force.
ESAB EDGE ETS4 Multi-Stage Regulators deliver strong flow performance even as a cylinder empties and inlet pressure decays. The regulators are said to feature a more efficient internal flow path, which improves consistency from full to empty cylinder.
ESAB G Series Single-Stage Regulators are based on a more traditional regulator design with contoured, colour-coded knobs to indicate gas type, plus better comfort when adjusting gas pressure. These regulators feature a high strength alloy bonnet that is said to have almost twice the yield strength of forged brass.
ESAB Bulldog Heavy Industry Cutting Torches are high capacity straight cutting torches designed for heavy cutting applications. Torches are designed to be lightweight for operator comfort, but are strong and durable, capable of cutting up to 350mm.
OTHER ARTICLES IN THIS SECTION