Latest gloves: Colour-coded and cut-resistant
01 August 2015
Honeywell has introduced two new cut-resistant gloves featuring a colour-coded numbers system to help safety managers ensure, at a glance, that workers are wearing the right protection for their level of cut injury risk.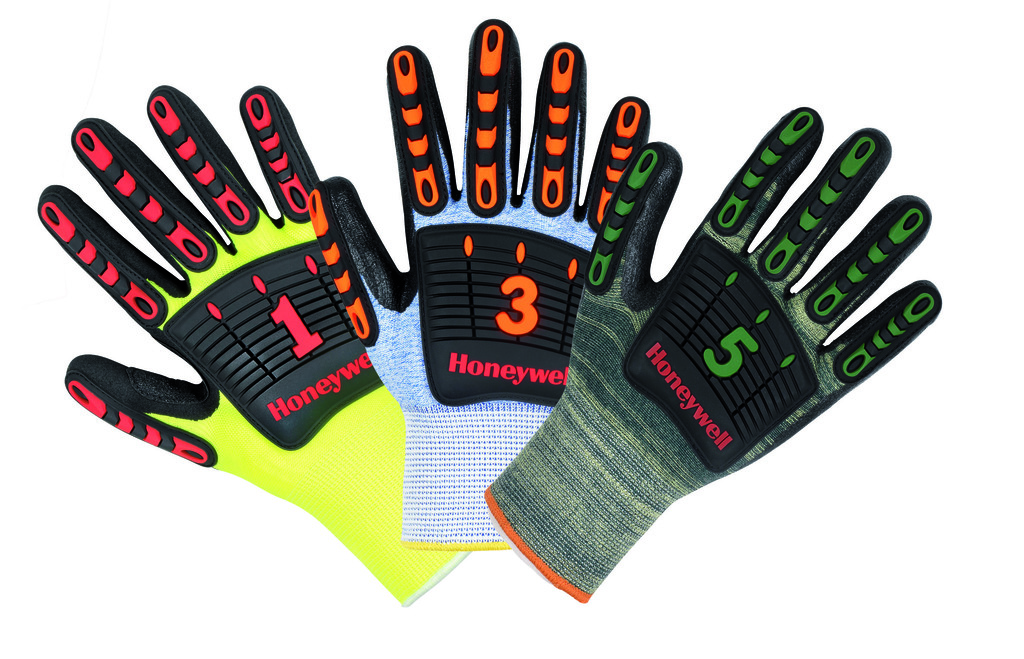 The Check & Go (C&G) DeepTril and C&G Skeleton gloves are suitable for a number of industries including manufacturing, maintenance, oil and gas, construction, rail and transport.
Stephanie Quilliet, product manager hand protection, Honeywell Safety Products EMEA, explains: "With cut resistance levels 1, 3 and 5 clearly indicated on the back of each glove, the C&G DeepTril and C&G Skeleton gloves incorporate the EN388 cut performance level number in an easily readable format. The new products combine cut protection with additional features, such as armour, making them ideal for rugged environments."
The colour-coded recognition system helps safety managers ensure workers are wearing the right gloves for their level of cut injury risk. Large red, orange and green numerals indicating cut resistance levels can be seen on the back of all of the gloves.
The C&G DeepTril is suitable for workers requiring a high performance alternative to traditional leather gloves. Manufactured using knitted, dipped technology and made from 13 gauge fibre, the gloves are lightweight, comfortable and flexible and have a fully dipped nitrile foam coating to provide protection from liquid splashes. They are said to offer enhanced grip in both wet and dry applications and excellent abrasion performance for longer glove life. They are available in EN388 cut protection levels 1, 3 or 5.
With reinforced exterior rubber armour to protect the bones in the back of the hand, the fingers and the fingernails, C&G Skeleton offers a combination of cut resistance and enhanced impact protection. The nitrile coating on the gloves is said to offer outstanding grip and excellent abrasion resistance.
The high visibility C&G Skeleton 1 is made from fibre polyester for use in general purpose environments, C&G Skeleton 3 is made with high-performance polyethylene (HPPE) for the handling of sharp objects in a dry and oily environment. The highest form of protection, found in C&G Skeleton 5, uses composite and Kevlar materials to provide cut resistance and is suitable for those handling sharp objects in frequently wet or greasy environments, such as on oil and gas platforms.
C&G Skeleton gloves use fully knitted, dipped technology, reducing the risk of tearing at the seams. It also ensures the gloves are lightweight and comfortable to wear and that users' dexterity is not compromised.
All gloves are said to have a long lifespan as they can be washed regularly at 40°C without affecting performance. They also meet the EN420 standard for general requirements for gloves.
OTHER ARTICLES IN THIS SECTION