Flange mount safety screens
02 October 2015
The extensive range of HI-BAR Flange Mount Safety Screens available from Lee Products now includes options made entirely from brass, per ASTM B16 / B16M.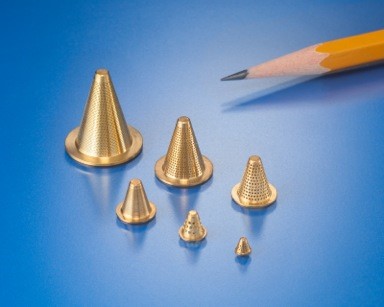 Lee HI-BAR screens protect components in critical fluids handling applications to ensure safety and performance. While critical components are often relatively immune to low levels of small size contaminants, a single large particle can cause blockages, resulting in system failure and down-time.
These all-brass versions combine high strength and a one-piece design which makes them suitable for applications and environments which have a risk of ignition, combustion and corrosion. Brass is suitable for use in oxygen applications, while its low propensity for sparking ensures suitability for use in explosive gas environments.
Depending on size, the single piece construction enables these screens to withstand fully clogged pressure differentials of 1000 to 4500psid, without rupture. They are available in six flange sizes ranging from 3.35 to 17.1mm in diameter and eight different hole sizes, from 0.05 to 0.5mm in diameter. Although the 48 'standard' versions offer optimum design flexibility, custom designs are also available.
OTHER ARTICLES IN THIS SECTION