High-temperature pyrometers fit for harsh environs
08 December 2015
The Endurance series of high-temperature infrared thermometers from Fluke Process Instruments features a stainless steel IP65 housing and galvanically insulated I/Os. These units enable continuous process monitoring of the most demanding industrial applications, including primary and secondary metals manufacturing, carbon processing, and silicon production.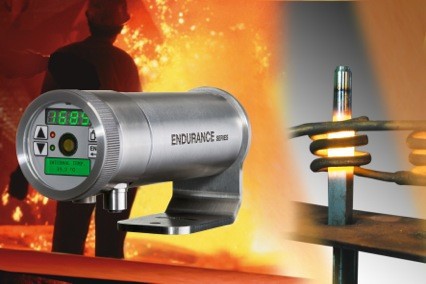 Providing a measurement resolution of 0.1°C, they also meet the requirements of the semiconductor industry. Two models cover wide measured temperature ranges of 550 to 1800°C and 1000 to 3200°C, respectively. They can be operated in one- or two-colour (ratio pyrometer) mode. An optical resolution of up to 150:1 allows measurements of smaller objects from a distance.
The sensors feature an intuitive rear-panel user interface and a built-in web server for data archiving, traceability, and process troubleshooting. The PC-based Endurance setup and monitoring software includes time-saving tools such as the new match function which automatically detects the correct emissivity of the measured surface.
Fluke Process Instruments has further extended the range of sighting options and now offers a high-resolution on-board video camera for remote monitoring of the application and sensor alignment via Industrial Ethernet. In addition to laser sighting, which marks the position or size of the measurement spot, LED sighting projecting the actual spot size on the target is also available.
OTHER ARTICLES IN THIS SECTION