Stratus Technologies Systems Ltd.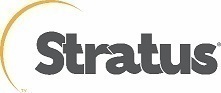 When "always-on" is a requirement, Stratus has a solution that fits.
In today's always-on world, applications run under increasingly demanding circumstances. With these escalating demands comes greater pressure to prevent even the smallest amount of application downtime. Stratus Technologies is the leading provider of flexible solutions – platform, software and services that prevent downtime before it occurs and keep applications running continuously.
Flexible
Whether you're looking to protect your always-on applications in demanding virtualised environments, at 'the edge' or in a traditional data centre, we have a solution that will integrate into your chosen environment.
Stratus solutions ensure continuous operation of your applications and work with the major operating systems and hypervisors including Microsoft Windows, Linux and VMware.
Easy
Stratus solutions are easy to deploy and manage, allowing your existing applications to run without the risk and expense associated with modifications or complex scripting.
Comprehensive remote monitoring services find and fix problems before they occur so that you don't have to deal with outages and data loss. Continuous application monitoring detects, analyses, manages and reports issues automatically to Stratus service experts located around the world, resolving most issues before customers even know there is a problem.
Trusted
Our customers, from Global Fortune 500 companies to small and medium-sized businesses and municipalities, rely on Stratus to keep their most critical operations up and running.
Providing the highest levels of customer service is at the heart of Stratus culture, reflected in a 97% customer satisfaction rate. The Stratus team of availability experts are on hand 24/7/365 with system monitoring and diagnostics being active continuously.
Continuous Availability in Industrial Automation
Downtime in SCADA, HMI, Historians and other critical Industrial Automation systems can mean lower yields, lost data, regulatory fines, compromised quality lost revenue and a damaged reputation.
Traditional systems are no longer sufficient to prevent downtime so there is an increasing move to modernised automation. This includes virtualisation coupled with fault tolerance which eliminates unplanned plant downtime and allows plants to operate smarter, faster and safer.
Stratus partners with leading industrial application companies including Siemens, Rockwell Automation, Schneider Electric, GE IP, Invensys, ABB, SAP AG and others to ensure your critical Industrial Automation Systems are 'always-on'. Together we have thousands of implementations in major industrial sectors including food and beverage, water management, power and energy, oil and gas, pharmaceuticals, chemicals, automotive and more.
Download Stratus' Best Practices Kit for Modernising Automation here
WEBINAR: Modernise Operations to Prevent Unplanned Downtime
PRODUCT SHOWCASE
everRun ® Enterprise Software:

FAULT TOLERANT AND HIGH AVAILABILITY VIRTUALISATION SOFTWARE FOR YOUR SOLUTIONS THAT MUST NOT FAIL Prevent Downtime, Ensure Business Continuity and Maintain Data Integrity – Easily and Affordably

FAULT TOLERANT AVAILABILITY FOR CRITICAL APPLICATIONS AND VIRTUALISED WORKLOADS Keep your Applications Always On and Achieve Business Continuity with Stratus ftServer ® Platform
COMPANY CATEGORIES
AUTOMATION
Automation
IIoT
IIot & Smart Technology
Networks
Plant, Process & Control