Reflex
08 December 2015
The Reflex helmet has been designed with Safety and Comfort in mind; High visibility options and/or Reflectors available for improved visibility during poor light conditions as well as ventilation, Terylene cradle and sweatband all as standard.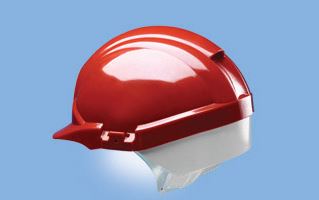 Key Features
Designed with Safety in mind; it is supplied with a Silver rear Flash as standard but is also available with a High visibility Yellow or Orange rear Flash or as a complete High Visibility helmet.
In addition, patented rear clip-on Clear or Red Reflectors are also available.
Ventilation is provided as standard for an altogether cooler helmet - it can also be closed off with the use of a VentPlug (available from your local distributor) if not required, providing one helmet for both Winter & Summer.
Wide front corporate badging area (rear and side printing also available)
Centurion's new patented COMBI-SLOT enables the Reflex to be compatible with both the Centurion connect accessory range as well as any approved 30mm accessories for maximum flexibility.
Suitable Applications: Construction, Power Plants, Logistics, Utilities, Nuclear Industry, County Councils, Oil & Gas Industries, Pharmaceutical
Please CLICK HERE for more information.
OTHER ARTICLES IN THIS SECTION