Vision Plus
08 December 2015
The Vision Plus offers the same protection features as the well established Vision helmet but now features a new moulded visor with additional benefits. Please refer to the Key Features.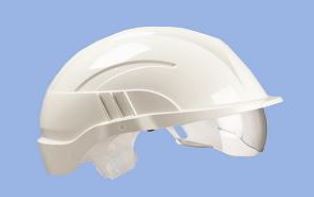 Key Features
Grade A High Energy Impact Protection to EN 166: providing the highest impact protection possible within EN 166 - better than any other integrated eyewear on the market.
Anti-Scratch & Anti Mist coating for improved durability and visibility
The new design continues to allow prescription eyewear to be used underneath.
Moulded design provides improved lower cheek coverage.
Most importantly, you can also the new Vision Plus visor with an existing Vision Helmet.
Suggested Applications: Construction, Oil & Gas Industries, Utilities, Power Plants, Nuclear Industry, Pharmaceutical, Logistics, County Councils
Please CLICK HERE for more information.
OTHER ARTICLES IN THIS SECTION