New fleet arrives in port
08 January 2016
Scotland's Grangemouth port has taken delivery of a new fleet of forklift trucks as part of a multi-million pound deal with Briggs Equipment.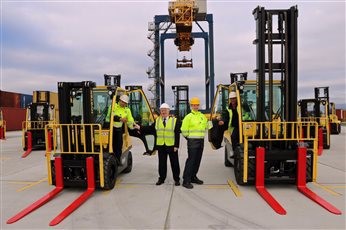 As part of a wider investment to increase capacity, efficiency and environmental performance, the Port of Grangemouth (part of the Forth Ports Group) has replaced its existing fleet with 15 new Hyster machines.
The deal includes full maintenance of the fleet, which consists of 12, 7, 5 and 3t counterbalance trucks. A number of the trucks have been specified with lower, 2.5m masts for loading and unloading containers and, as part of the contract, all the trucks will have round-the-clock support from a team of locally-based Briggs Engineers.
John Shields, Briggs' key account manager Scotland, comments: "These new trucks have the latest Kubota diesel engines that offer between 15 and 20% fuel savings and reduced carbon emissions. This will help the company to meet its ambitious environmental targets whilst delivering improved performance as the port continues to expand its operations."
All the new trucks benefit from the latest Euro 6 diesel engines and will help the 386 acre facility to meet its target of reducing CO2 emissions generated through Port operations.
The Hyster range also provided an effective solution for meeting one of the port's biggest challenges – the wide variety of goods passing through.
Port manager, Derek Knox, explains: "This is another major investment for the business which will further secure our position as Scotland's largest container terminal. More than £6 billion worth of goods pass through Grangemouth each year including steel plate, timber, paper and equipment for the oil and gas industry. We also handle some of the country's most valuable exports, such as fine foods and drinks, so flexibility and durability was a key priority when specifying the new trucks for our business.
"By reducing our supplier base and having a sole supplier we have streamlined our operation, and the comfort and ease of use offered by the new trucks has been welcomed by our operators."
Briggs Equipment is national distributor of Hyster forklifts.
OTHER ARTICLES IN THIS SECTION