Take a look at Gardner Denver's new compressor technology at Air-Tech 2016
05 April 2016
Looking for the newest compressor technology? We're exhibiting our CompAir L140 rotary screw compressor for the first time in the UK at Air-Tech 2016, together with a new range of energy-efficient 160-250 kW oil-injected screw air compressors.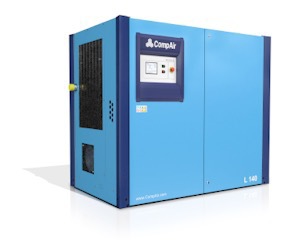 Visit our stand to view the new Hydrovane 'Air Solution' integrated compressed air system, plus models including Elmo Rietschle claw, vane and screw vacuum technology and Robuschi and PD blowers, as well as a range of aftermarket energy audit tools.
Gardner Denver Stand AF120 AIR-TECH EXHIBITION, NEC, Birmingham, 12-14 April
Get the look and feel of some of our most innovative and energy-efficient products, including:
The new CompAir L140: an oil-lubricated compressor range, giving you a quick return on investment by improving energy efficiency levels.
The new CompAir L160 – L290 range: designed to cut your energy bills. With both fixed and speed-regulated models, it delivers reliable and efficient compressed air.
New Hydrovane Air Solution: The total package! Combines a rotary vane compressor with a range of ancillary equipment, plus an air receiver, dryer and in-line filtration.
Elmo Rietschle low pressure and vacuum technology range: includes the C-VLR claw, the oil-lubricated, rotary vane VC series and a model from the highly efficient, low-maintenance S-VSI screw technology range.
We'll also have experts on hand to discuss our industry-leading six-year warranty, 'Assure', which is now available as standard on all new and existing rotary vane vacuum pumps.
For more information on our compressor and vacuum solutions visit gardnerdenver.com/industrials/products/
or contact sales.red@gardnerdenver.com.
OTHER ARTICLES IN THIS SECTION