Home
>
Online industrial fan selector
Online industrial fan selector
16 May 2016
Air Control Industries specialises in the design, manufacture and supply of industrial fans, blowers and accessories. Visitors to its website (www.aircontrolindustries.com), will find a new ACI Fan Selection feature to help them select the optimum ACI product.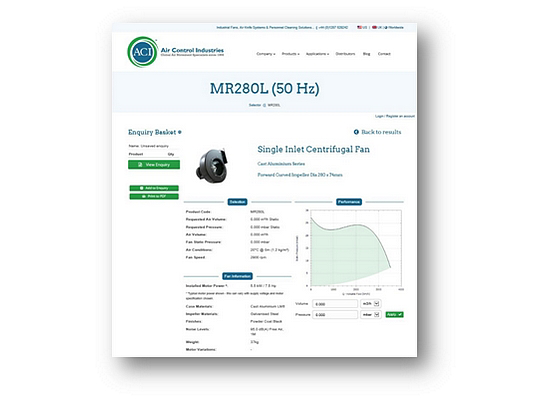 Entering the operating parameters using a simple user interface, users will be given a clear list of fans that meet the criteria entered.
As well as offering results based on operating parameters, if the user knows what fan line they would like, they can still go to 'Fan Type' and make a selection.
Once a fan units is selected, the user has options to print, make an enquiry or view the fan in more detail, whereupon they are able to view and interact with the performance curve and view details such as noise, material and motor specifications, as well as immediately accessing drawings (2d and 3d where available) and installation and maintenance manuals.
The whole visitor experience has also been enhanced by the introduction of an online chat service, giving visitors almost immediate access to one of ACI's knowledgeable and experienced sales engineers.
Paul Tuffin, ACI's MD, explains: "The combination of introducing the Fan Selection Software and providing an online chat service really marks the beginning of a new and exciting chapter for ACI. We are a problem solving company, and offering these services to existing customers and new prospects reinforces our position in the air movement industry as an innovative leader."
RELATED ARTICLES
No related articles listed
OTHER ARTICLES IN THIS SECTION