Extra features for multifunction tester
28 July 2016
As well as providing all functions needed for the safe, convenient and efficient testing of low voltage electrical installations, Megger's new MFT1711 multifunction tester (MFT) offers features that it says were previously only available on more expensive instruments.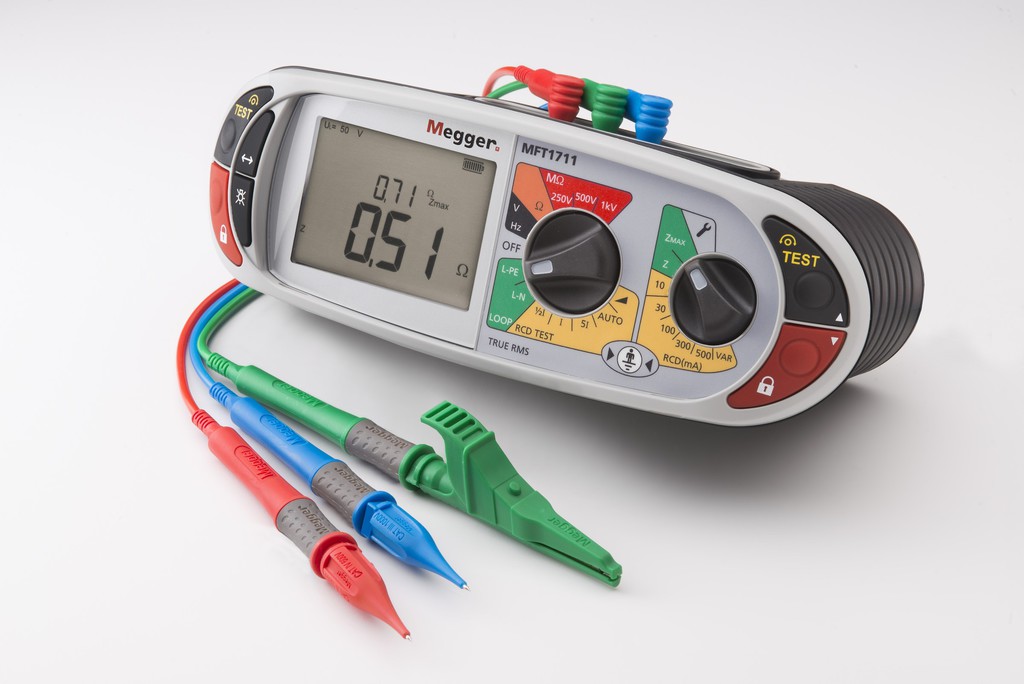 These include a maximum Zs function, which makes it unnecessary to remember individual Zs readings when testing an installation, automatic RCD testing and true RMS voltage measurement.
The new entry-level model, the MFT1711 has been designed to meet the needs of electrical contractors who work mainly on single-phase installations in commercial and domestic premises. It combines value-for-money with ease of use and features robust construction to give long life, even when regularly used in tough, on-site conditions.
The MFT1711 can test RCDs with sensitivities from 10 to 500mA, including programmable types. It provides three options for loop testing – two-wire no trip, three-wire no trip and high current – which means that the fastest and most convenient method can be used in every situation. It also features fast-response continuity testing.
Megger's MFT1711 multifunction installation testers have a large bright dual-parameter display that shows test voltage at the same time as insulation resistance, and loop resistance at the same time as prospective fault current. All tests are selected quickly and positively using clearly marked colour-coded control knobs – there are no complex menus to navigate.
Safety is central to the design of the MFT1711. It is dust and rain proof to IP54, and it has a CAT IV 300 V safety rating, which means that it can be used without concerns in any environment. It also incorporates comprehensive protection against damage if the wrong range is selected or if it is accidentally connected to a live circuit, even if the test has been locked on.
Megger's new MFT1711 testers are supplied in a robust carrying case that, despite its convenient size, has ample room to accommodate test leads, small tools and calibration certificates as well as the instrument itself, which can be stored in the case without the need to unplug the test leads. As standard, a calibration certificate and a set of batteries are also included.
OTHER ARTICLES IN THIS SECTION