Home
>
Sterling depreciation: not a win-win game
Sterling depreciation: not a win-win game
17 August 2016
EEF explores economic and consumer confidence indicators in the wake of Brexit.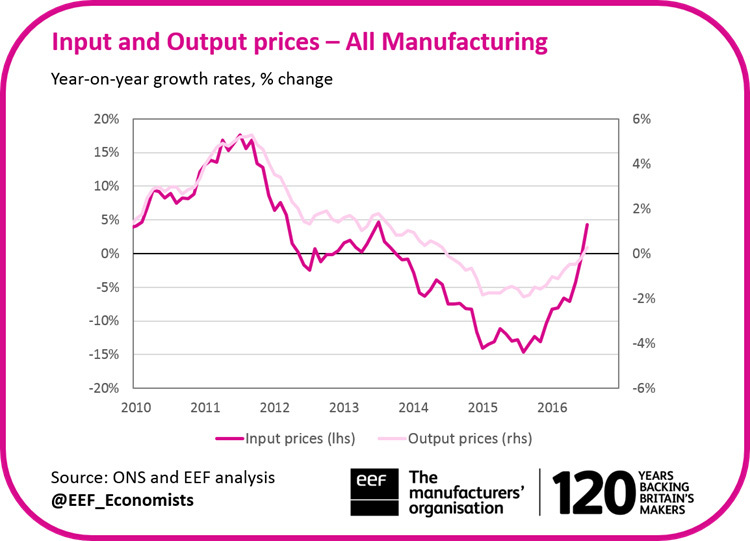 After surveys released over the past weeks gave us an idea of what consumers and businesses were feeling about Brexit, hard indicators start to be published this week and will allow us to estimate the state of the economy post-brexit.
Today, the ONS released data on UK producer prices. Unsurprisingly, output prices (that is factory gate prices for goods produced in the UK) rose by 0.3% in July compared to June 2016. The year-on-year growth rate turned positive for the first time in two years, leaping to 0.3% in July after a fall of 0.2% in June. Yet the pick-up in output prices has been quite moderate compared to the upward slope in manufacturers' input prices. In July, the index rose by 3.3% compared to June, its highest month-on-month growth since December 2010. The difference means that manufacturers are already facing some pressures on their margins since the referendum and the following depreciation of the Sterling.
While the trend is unequal across sectors, they all appear under stress (see chart). At the top of the chart are sectors with the largest gap between input and output prices: we see that low and medium-tech industries probably faced higher pressures on margins as input prices soared, but some – like basic metals – could pass-through part of the increase in their output prices. The gap is smaller for high-tech and export-intensive industries like pharmaceuticals and other transport equipment, which might be experiencing lower margin pressures.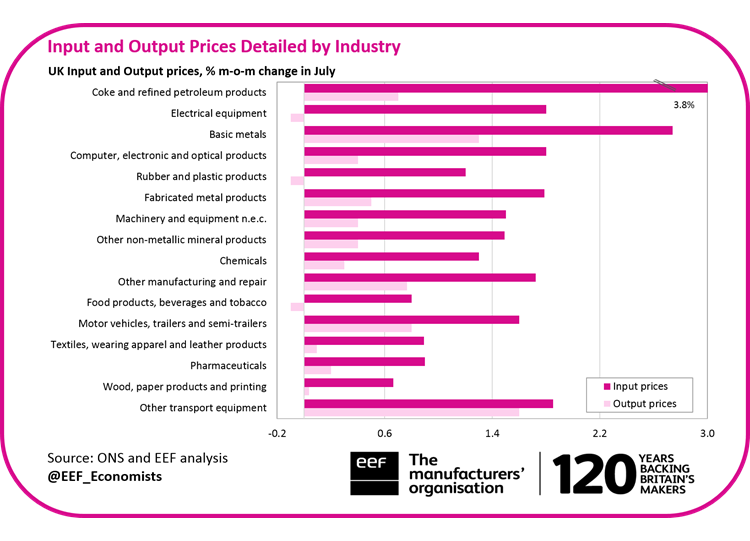 While it is too early to have a final word, PPI data released today confirm our members' expectations. According to our EEF survey released last month, one in three companies was already experiencing a surge in input prices, with half expecting this to continue over the next six months. The survey also stressed that benefits from exchange rate depreciation were more balanced than people think.
RELATED ARTICLES
No related articles listed
OTHER ARTICLES IN THIS SECTION