Home
>
Creating operator choice
Creating operator choice
17 August 2016
The CP2611 1.0 to 7.5Nm is a 'Shut off' model with Progressive trigger (235mm in length) and is said to be a robust tool suitable for many Industrial MRO applications and delivers high performance.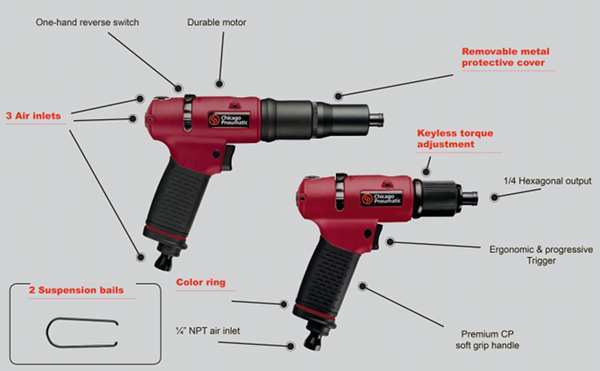 The CP2612 with 1.0Nm to 6Nm has a cushion clutch and is shorter in length only 190 mm this can be advantageous when used in limited access areas. These models offer the user great versatility s they have 3 air inlet points. So simply by selecting the preferred inlet dependant on the job being worked on the operator can use the air inlet through pistol handle or back of the tool or indeed as air into the top of the tool for horizontal use. Both are also one hand operation for forward/reverse lever.
There are also three straight models starting with the CP2621 from 0.7Nm to 6.5Nm, the CP2622 0.5Nm to 4.5Nm both tools being 'Shut off' Clutch type and push to start. Then the CP2623 1.5 to 5.5Nm that is Cushion clutch and has an Ergonomic Progressive Lever start all weighing in at only 0.8Kgs .The advantage on each being keyless torque adjustment and one hand operation for forward /reverse switch
All of the above tools have durable motors and are well balanced with soft grip and can be fitted with colour rings for identification and can make the selection of torque range easy.
RELATED ARTICLES
No related articles listed
OTHER ARTICLES IN THIS SECTION