Dual technology dryers
06 December 2016
Gardner Denver has launched a dual technology dryer, the GDDT, which combines refrigeration and adsorption technology into one compressed air treatment package.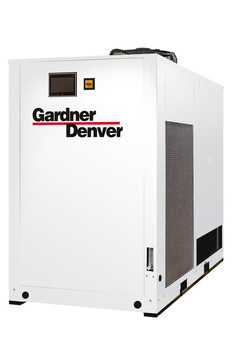 The technology is said to use 60% less power than traditional heatless adsorption 'twin tower' dryers, reducing energy bills. Gardner Denver says low running costs are further assured as the system consumes less purge air – only 5% – compared with 15-20% for heatless dryers and 7% for heated dryers, resulting in a greater volume of air downstream.
Offering up to 30% lower regeneration costs when compared with conventional heat regenerative dryers, the new technology means it is possible for a business to increase the volume of useable compressed air from its existing system without having to add a new compressor, helping to reduce total cost of ownership while improving operational efficiencies.
The GDDT first removes water vapour from the incoming untreated, humid compressed air, before passing through to the adsorption stage, where a series of high-performance oil/water aerosol and particle removal filters ensure the moisture content is reduced to a standard dew point of -40°C and is user configurable from +3°C to -70°C pdp. Capacities range from 2.5 to 34m3/min
Keith Atkinson, global product manager for downstream equipment at Gardner Denver, said: "The GDDT is a solution that merges refrigeration and adsorption drying techniques into a single, flexible unit. Delivering constant dew point performance, its technical capabilities, such as low purge air consumption and reduced regeneration costs, ensure the GDDT is one of the most advanced energy efficient dryer technologies available on the market.
"The unit is fitted with the latest ISO-12500 approved oil-water aerosol and particulate filters, ensuring equipment is not affected or damaged by contaminants from the surrounding environment.
"We also offer an optional seasonal bypass function on select models, offering the flexibility to reach dew points above zero in summer and below zero in winter, as well as an optional touch-screen display control panel.
"The fact the system uses small desiccant vessels also means that the unit – depending on the model opted for – may be exempt from periodic inspections in the UK, helping to cut downtime and expense."
OTHER ARTICLES IN THIS SECTION