New guide to floor plenum airtightness
23 November 2016
A Floor Plenum Airtightness Guide is available to download from the BSRIA website and as a hard copy.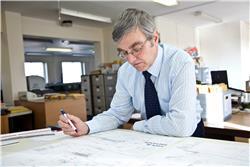 A floor plenum is a void between a building's floor structure and a raised access floor, used for distributing conditioned air to the spaces above. It is important that conditioned air in a floor plenum flows into the occupied zone and does not leak into cavities, risers, stairwells, heating trenches or other adjacent zones. Air leakage from floor plenums can be a serious energy efficiency issue and a source of discomfort to users.
BSRIA says it is important that the air supplied to the floor plenum discharges through the floor-mounted diffusers or grilles rather than through joints in the raised access floor or between the raised access floor and the walls. A properly sealed floor plenum will allow the diffusers and grilles to fulfil their primary role of delivering air at the correct flow rate.
This BSRIA guide addresses these issues, and recommends worst acceptable criteria for air leakage from floor plenums.
Tom Jones, technical manager, Compliance Department, BSRIA, said: "This guide suggests worst acceptable criteria for plenum leakage. More stringent air leakage specifications may be required for critical environments such as data centres and designers should specify this at an early stage.
"Since the introduction of airtightness testing as part of the Building Regulations, the air leakage of buildings has steadily reduced as construction teams have become more familiar with the requirements for buildings to be more airtight.
"It is hoped that by introducing lower specifications for floor plenums, the effect will be similar."
OTHER ARTICLES IN THIS SECTION