New lab portal
21 November 2016
Whether you have recently installed a new liquid dispenser or cherish a 10-year old balance, taking a moment to consider the health of your equipment can pay dividends in enhanced performance and accuracy. And when it's time for a service call, Mettler Toledo's new web portal access to its worldwide network of 5000+ qualified balance technicians.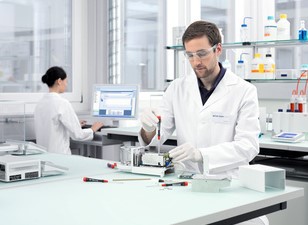 The company says that for simple weighing, formulation, piece-counting, and other sensitive lab protocols, daily accuracy checks only go so far to guarantee performance. Manufacturer guidelines are also typically not enough to ensure safe operating margins—particularly when taking a specific process into account. Annual or semi-annual calibration, even when not required by law, is one of the best ways to ensure reliable long-term performance.
The portal shows how calibration services help you run a leaner lab. The easy-to-read format allows you to directly request service and access regional contact information. Relevant educational materials on equipment servicing, including webinars and white papers, help you identify when service is recommended for best performance and equipment life.
In addition to maximising productivity and helping to guarantee uptime, regular service will offer audit-proof documentation that your instruments perform accurately.
OTHER ARTICLES IN THIS SECTION