Home
>
How should the UK's innovation landscape change to enhance R&D spending?
How should the UK's innovation landscape change to enhance R&D spending?
20 February 2017
EEF responds to the R&D implications of the recently announced Government Industrial Strategy.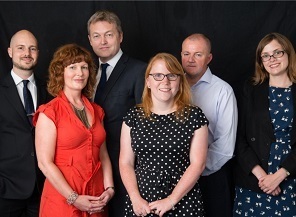 Science and Innovation forms a central part of the UK's Industrial Strategy. And indeed, it is the first of the 10 policy pillars set out in the government's Green Paper published last month.
Why is it a big deal? The UK is lagging behind its main partners in terms of research and innovation. Gross expenditures on R&D totalled 1.73% of GDP in 2012, well below the OECD average of 2.4%.
Business innovation is low by international standards and has been subdued since the outbreak of the financial crisis, dragging on productivity performance. Although the manufacturing sector has been doing well so far, there is evidence of a slowdown in R&D intensity, which if sustained may harm UK manufacturing competitiveness over the long term.
On the other hand, R&D outcomes are not being adopted enough by UK companies, widening the productivity gap across firms.
The green paper sets out a list of priorities for the government to enhance business R&D spending: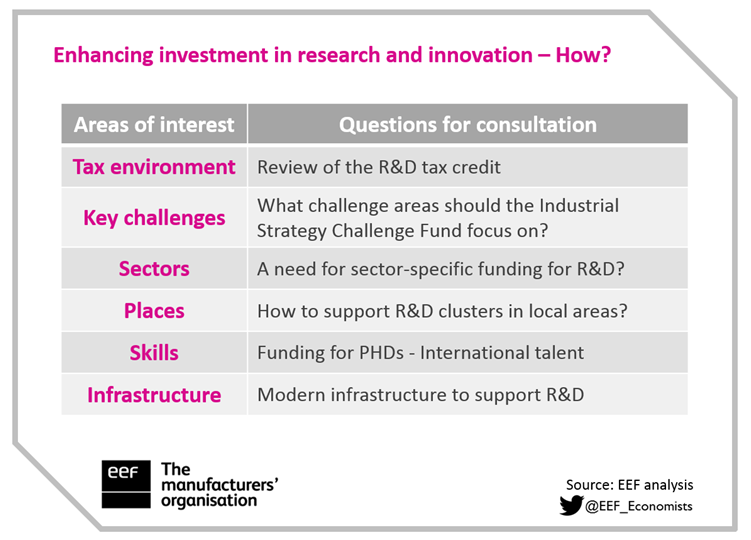 At EEF, we've previously made recommendations about some of these areas:
Tax environment – We think that a review of the R&D tax credit could allow better support for the diffusion of R&D outcomes across firms. Areas of improvements include: (i) softening the strictness of the novelty requirement; (ii) shifting from a focus on technological or scientific achievement to include organisational achievement.
Industrial Strategy Challenge Fund – The Autumn Statement announced the creation of an Industrial Strategy Challenge Fund with the aim to address some of the long running challenges holding back UK productivity. EEF remains of the view that innovation should be based on national excellence with Innovate UK remaining the conduit for the ISCF. Moreover, priority should be given to the diffusion of enabling technologies such as those associated with the evolution phase of the 4th industrial revolution.
Infrastructure and institutions – The green paper notes that the newly created UK Research and Innovation (UKRI) could "develop a new capital spending roadmap to provide modern infrastructure to support fundamental research". This should be an opportunity to provide better and more reliable digital infrastructure and high-speed fibre network.
RELATED ARTICLES
No related articles listed
OTHER ARTICLES IN THIS SECTION